20 for 20: Los Amigos Biological Station and Conservation Concession
December 5, 2020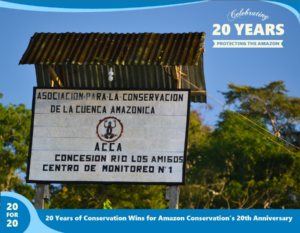 Because 2020 marks our 20th anniversary protecting the Amazon, we're closing out this year by celebrating this milestone with a look back at our biggest conservation wins. To kick off the countdown, we're commemorating the establishment of our Los Amigos Biological Station and Conservation Concession, located in Madre de Dios, Peru.
When we established the Los Amigos Conservation Concession in 2001, it was the first private conservation concession in the world. Located in the Los Amigos watershed in the department of Madre de Dios in southwestern Peru, the 360,000-acre concession borders the world-famous Manu National Park, and is a mosaic of terrestrial and aquatic habitats, including old-growth Amazonian forest, palm swamps, and bamboo thickets. Wildlife is abundant, including 12 globally threatened species, 11 primate species, and over 550 bird species.
What is a conservation concession? In Peru, as in other countries in Latin America, a substantial portion of land is publicly owned. Conservation concessions entrust long-term protection of publicly owned land to non-profit institutions or other entities in exchange for investments in conservation and sustainable development. This allows private organizations such as ACA to assist the Peruvian government in achieving national biodiversity conservation goals.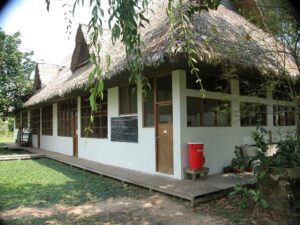 Adjacent to the concession is our Los Amigos Biological Station, established in 2000, which was built on the conviction that the greatest forest on earth deserves the best research centers in the world. The 1,119-acre station is situated in the lowland Amazonian forest at the base of Peru's southern Andes, at the tip of a peninsula on a high terrace between the Madre de Dios and Los Amigos rivers.
Since its establishment, researchers have conducted studies at the station addressing botany, conservation biology, geology, hydrology, and zoology, among others. Additionally, many field courses have been held at the station with students from Peru and around the world. Los Amigos is also a training site for young Amazonian scientists, offering opportunities for area students to visit the station for a hands-on learning experience in tropical ecology and environmental issues.
Efforts to build bricks-and-mortar institutions for the long haul were historically rare in Amazonia. Los Amigos became a model protected area, model research station, model training center, and model partnership rolled into one and since then there have been various other institutions replicating their own versions of this model throughout the Amazon.
Click here to help keep Los Amigos protected and support the establishment of other protected areas in the Amazon.