ACEAA Hosts Workshop on Jaguar Conservation in Pando
July 20, 2023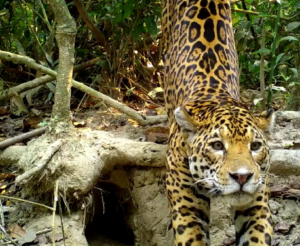 Recently, our Bolivian sister organization Conservación Amazónica – ACEAA held the Jaguar-People Conflict Mitigation Action Plan socialization workshop at the Manuripi – Abuná Conservation Corridor in Pando, Bolivia. The aim was to forge an alliance meant to protect and preserve this fantastic species and its habitat in Pando. This event discussed governance, knowledge management, awareness, and mitigation strategies.
The Alliance for Jaguar Conservation in Pando brings together prominent entities such as the Pando Government, the Secretariat of Mother Earth, Pando Amazon University, Departmental Assembly, Manuripi Amazon National Wildlife Reserve, Environmental Forest Police (POFOMA), WWF Bolivia, WCS Bolivia and Conservación Internacional Bolivia.
This initiative is a fundamental part of the project "Monitoring with Trap Cameras and Mitigation of Human Conflict – Jaguar in Natural Spaces Conservation of the Panda Department", funded by WWF Bolivia and executed by Amazon Conservation ACEAA.