Adapting to a New Reality: Advancing Conservation Virtually
August 14, 2021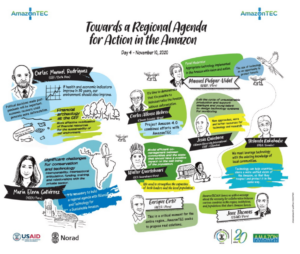 In 2020 our Alliance of sister organizations contributed to over 80 virtual events in the United States, Bolivia, and Peru, helping keep conservation efforts moving forward even amid the impacts of the COVID-19 pandemic. Adapting our in-person work into a virtual format also came with some benefits: we were able to more efficiently and quickly deliver capacity-building workshops to a wide variety of stakeholders – from local community members taking part in our drone training program to international researchers monitoring deforestation from space – as well as expand access for thousands
of people.
For instance, to help educate the press and improve their reporting on environmental, biodiversity, and climate news, we developed a rigorous training curriculum and virtual workshop for Bolivian journalists. Our initiative was met with high interest. Of the 140 journalists who applied from a wide variety of news and media organizations, sixty were ultimately selected for the training and will have a chance to visit the Amazon to help tell the stories of those who live there. We aim to expand the program to include journalists from other Amazonian countries and the United States in a future regional curriculum.
In Peru, we also converted our annual AmazonTEC conference into a virtual forum that brought together policymakers, technology experts, and forest guardians to discuss how technology can advance environmental policies. With no physical location restrictions, our 5-webinar AmazonTEC event reached over 250,000 people in 20 countries digitally, with presentations from renowned speakers from NASA,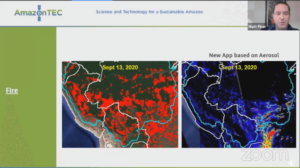 USAID, the Gordon and Betty Moore Foundation, the governments of Peru, Colombia, Norway, and more. The fourth of five sessions (right image) was titled "Towards a Regional Agenda for Action in the Amazon" and considered challenges facing the Amazon. Panelists discussed the role of science and technology in achieving its protection and brainstormed the necessities for an actionable agenda for the region.
Virtual events like these were crucial for us to adapt to the challenges brought on by the pandemic as they enabled us to connect with local communities, indigenous groups, policymakers, the media, and other stakeholders in a new way to continue to advance our conservation efforts together.
This was a story originally featured in our 2020 Impact Report. Click here to read about other conservation successes from 2020.