Celebrating International Women's Day by Empowering Women Bird Guides in Peru
March 8, 2023
Among birders, a Big Day is a day in which birders or teams of birders strive to identify and record as many bird species in a defined area as they can in a single day. 
This year, Amazon Conservation is proud to sponsor the first-ever Women's Big Day in Peru at our Manu Conservation Hub in the Peruvian Amazon!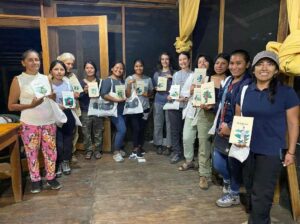 The first Women's Big Day aims to highlight women birders and elevate the inclusion of women leaders in birding, naturalism, and conservation as well as raise awareness of the importance of protecting biodiversity.
Every year, birders from all over the world flock to Peru because of its rich avifauna. In and around Manu National Park, where our Manu Conservation Hub is located, one can encounter nearly 10% of all bird species found on Earth. Birding has long generated important economic value for Peru and incentivizes the protection of habitat and biodiversity. However, there are very few women bird guides in Peru, and this event hopes to change that.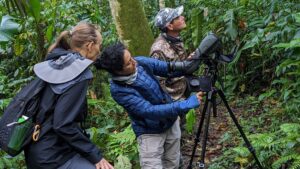 The 2-day event begins with a workshop that explains the basics of birding, allows attendees to share their experiences, and demonstrates that learning from the environment is an important, worthy life goal. Open to birders of all skill and experience levels, the workshop empowers local women with the tools to learn about birding in a fun and supportive environment. Day 2, the Big Day, is spent in the field identifying and recording birds spotted. 
Doris Valencia Puclla, one of the very few women bird guides in Perú, observes:
"My experience in this field has been very satisfactory over the years. However, the beginnings were not easy as I felt that I don't have the same opportunities. Many times, my ability has been questioned because I am a woman. It took a lot of time and effort to position myself as a professional in the field of birdwatching, basically because most professionals in this field are male and many still believe that women are not capable. I have shown that we are capable and can be even better. This has led me to form my own company to organize trips in Peru and recently Colombia, besides working for one of the largest birdwatching agencies in the world. I think that the only thing we have to overcome is ourselves, and believe in our worth."
Meet the Team Behind Women's Big Day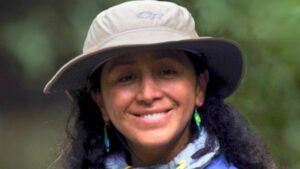 Doris Valencia Puclla
Doris is a keen Peruvian bird watcher and naturalist. Her passion for the outdoors and bird watching has its roots in her childhood in southeastern Peru. She leads birding trips throughout Peru and recently in Colombia. Doris marries her birding skills with a broad interest in all aspects of natural history. Currently, she is the director of the Pacha Conservancy Project, which works with reforestation, outdoor education, research, and community outreach in the fragile cloud forest north of Cusco-Peru.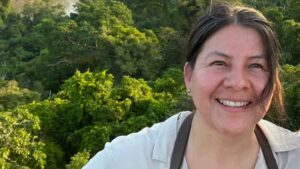 Claudia Torres Sovero
Claudia is a passionate birder and university teacher. Currently, she is a Senior Consultant in ecology, sustainable development based on ecotourism, education, and science. She has more than fifteen years of experience in research, education, consulting, and implementation of citizen science projects in the tourist experience. She has been in charge of organizing the Global Big Day events since 2017 with Rainforest Expeditions.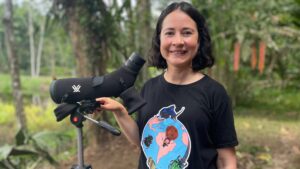 Juliana Andrea Morales
Juliana is an Entomologist and bird enthusiast. Currently, she is the Manu Biostation Lab Manager. She has more than 10 years of experience working in Colombia and the Peruvian Amazon as a consultant. Juliana's topics of interest include vector-borne diseases research projects, mostly Malaria, Dengue, and Leishmaniasis.