Celebrating the First Anniversary of the First Protected Area in Cobija in Northwestern Bolivia
April 27, 2023
This April, the Municipality of Cobija in the Department of Pando along with our sister organization in Bolivia, Conservación Amazónica – ACEAA, celebrated the first anniversary of the city's first and only protected area. The Arroyo Bahía Conservation Area (known by the acronym ANGICAB in Spanish) protects 8,952 acres (3,623 hectares) of forests and critical water sources. The area has also been identified by the Bolivian government as a priority for biodiversity conservation.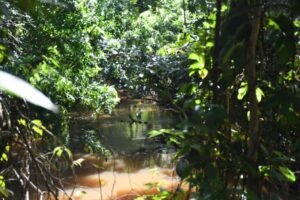 ANGICAB was established in April 2022 thanks to support from the Andes Amazon Fund with the goal of protecting the Arroyo Bahía stream and watershed, which provide freshwater to more than 80,000 people including residents of Cobija, surrounding communities in the Department of Pando, and communities neighboring Pando in Peru to the west and in Brazil to the north and east. The conservation area also protects a range of flora and fauna, including more than 351 plant, 35 amphibian, 13 reptile, 185 bird, 32 mammal, and 30 fish species.
Since the 1980s, the Arroyo Bahía watershed has steadily lost forest cover due to a growing demand for land to raise livestock, which has progressively led to greater erosion, soil compaction, and sedimentation that clogs streams. This in turn has impacted forest regeneration, water and soil pollution, and a drop in water quality and potability for local residents. Local forest harvesters in the region have also noted a decrease in the production of Brazil nut trees in recent years in relation to these changes in the local forests and watershed.
Thanks to the establishment of ANGICAB, the local government of Cobija and Conservación Amazónica – ACEAA are optimistic that local residents will engage more in taking care of their local conservation area and protect the watershed from contamination and deforestation for their own health, the health of the ecosystem, and the health of the larger Amazon region. Conservación Amazónica – ACEAA continues to work together with the local government and local communities to complement sustainable land and water management through ANGICAB with programs that support sustainable livelihoods for local families and promote strategies that help mitigate floods, fires, pollution, and the effects of climate change.