Building a Climate-Smart Forest Economy Alongside Indigenous Peoples
August 14, 2021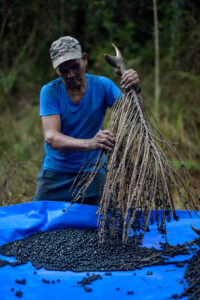 Thanks to the support of Euroclima+ and many others, this year marked two years of working in partnership with local and indigenous communities in Bolivia and Peru to make the management of their forest resources climate-smart across almost 2 million acres of protected areas. This project built their capacity to adapt to changes in climate while taking key steps to build the region's bioeconomy.
As of 2020, we supported 242 people – a third of whom were women – to improve the sustainable production of Brazil nuts and açaí berries, the two main forest products that grow in this part of the Amazon. To achieve this, we first helped communities assess and understand the state and vulnerability of their resources in the face of extreme weather events – like flooding and drought – to plan the best way to manage their forests and their production under climate change. A major part of our efforts have focused on helping them increase the added value of their forest-based products so that a larger share of the income generated would stay in the community.
One example from this year is the new açaí processing plant that we helped the local community of Santa Rosa del Abuná build in Bolivia. The plant now enables them to extract pulp from this fragile berry that spoils in a matter of days, package it, and store it under refrigeration. Providing the community the capacity to process berries and not just sell the raw product has improved their local market power and profits, while providing them an incentive for keeping their forest healthy. Along with increasing the income from the community's açaí harvest, we also are helping them diversify and increase their income through developing the production and organic certification of their Brazil nut harvest as well.
Based on the results of this work, we are now prepared to replicate this model and scale it across the Amazonian forests of Bolivia and Peru.
This story was featured in our 2020 Impact Report. Click here to read about other conservation successes from 2020.