Cross-Border Workshops in Peru Use Geospatial Data to Detect Ecosystem Changes
June 25, 2022
Conservación Amazónica–ACCA, Amazon Conservation's sister organization in Peru, held two workshops alongside geospatial scientists from the University of Richmond's Amazon Frontier Spatial Analysis (ABSAT) team on June 9-10 and June 13-17 through ACCA's partnership with the SERVIR-Amazonia program, an initiative of USAID and NASA. The goals of both workshops included showing how to analyze geospatial data and how to use geospatial science to detect ecosystem changes across borders and in indigenous landscapes.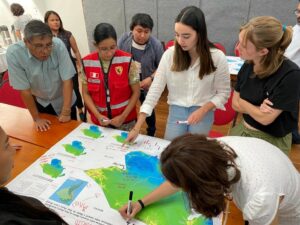 The first workshop, "Ecosystem Services and Socio-Environmental Dynamics in Indigenous Landscapes," took place on June 9 and 10 in the town of Puerto Breu in east-central Peru near the border with Brazil. In attendance were 122 indigenous leaders and representatives from 13 different Amazonian ethnic groups from Peru and Brazil. The workshop, led by the team from the University of Richmond, focused on how geospatial science can detect changes in Amazonian ecosystems as a result of alterations in the forest surface and these effects relate to climate change.
During the two-day event, indigenous representatives and leaders participated in activities to aid in recognizing and understanding the changes that their forests are undergoing. Participants learned about evapotranspiration, which is the way in which trees remove water from their bark as a result of tree respiration, and how this process has been altered due to climate change, resulting in forest degradation and the loss of the ecosystem services they offer.
The knowledge shared also included how the geospatial applications, known as "dashboards", developed by the University of Richmond's ABSAT team, work as information management tools to interactively monitor and analyze indicators and fundamental data related to deforestation, degradation, evapotranspiration, temperature, and precipitation in the cross-border area and territories between Peru and Brazil.
"The dashboard allows anyone to model or simulate a situation in which, for example, if forest is lost or if forest is transformed into another type of cover, what would be the consequences of this loss. If this could cause an increase in temperature, evapotranspiration reduction or water reduction," said David Salisbury, leader of the University of Richmond's ABSAT team.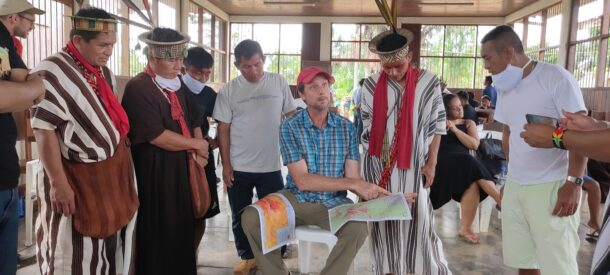 David Salisbury, a professor at the University of Richmond, teaches representatives of different indigenous groups to read geospatial data and maps.
Through this workshop, we recognized the importance of collecting and incorporating the ancestral knowledge of the indigenous peoples of the Yuruá River basin. Given that they are the guardians of the forest, their knowledge and perspective may be able to identify blind spots that technology is not capable of identifying. For this reason, indigenous participation and ancestral knowledge are important contributions in developing the geospatial tool.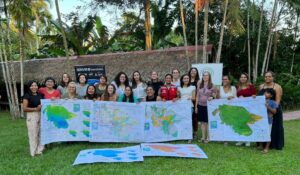 "Today, new generations are more prepared to face climate change, not only because of the tools that science provides them, but also because of the teachings to be the new leaders and guardians of this great forest – which is the Amazon – that they have learned from their parents and grandparents," said María Elena Paredes, an Asháninka indigenous leader.
The second geospatial science workshop took place on June 13-17 on the campus of the National University of Ucayali in Pucallpa, Peru and focused on Cross-Border Corridors and Ecosystem Services of the Southwestern Amazon. The workshop included an overview of geospatial science and how it can help communities face climate change as well as the results of the ABSAT team's latest geospatial research. There were 40 participants in attendance, including GIS analysts from local and national government entities from Peru and Brazil.
These workshops were made possible thanks to the valuable support of USAID. In addition, the technical and logistical needs were provided thanks to the work of various organizations including Conservacion Amazónica–ACCA and Upper Amazon Conservancy, and the workshops themselves were carried out with the support of representatives from SERVIR-Amazonía, the University of Richmond, and NASA.