Fashion Designer Iris Van Herpen Auctions Custom Met Gala Gowns to Benefit the Amazon
November 27, 2021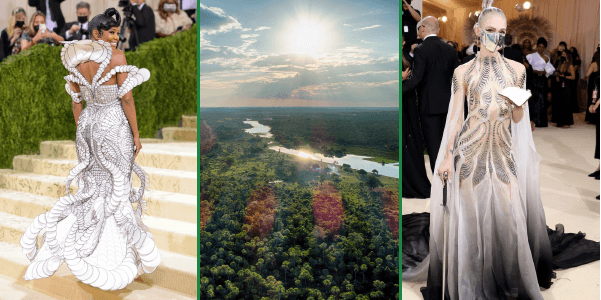 This year's Met Gala saw two incredible dresses that will help protect the world's largest rainforest. 
Dutch fashion designer Iris van Herpen will soon auction the Met Gala gowns she designed for singer-songwriter Grimes and actress Gabrielle Union with Sotheby's, and all proceeds raised will benefit the Amazon via our organization and Rainforest Trust.
A lifelong admirer of nature, it is no surprise that Iris Van Herpen draws inspiration from the natural world in a style known as "biomimicry". This concept looks to implement nature's intelligence into design and invites to look closely into natural transformations. She credits this interest to her upbringing in the "Land of the Rivers" in the Netherlands, where she became fascinated by water and its movement from a very young age. "The transformations within water are infinite," Van Herpen explains. "I try to translate its dancing beauty and fluidity into garments. Sometimes literal, like a splash of water, other times I take inspiration from its metamorphosis from liquid stage into crystallized structure."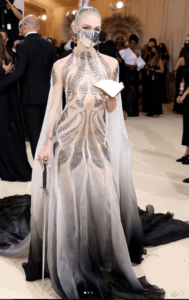 One can recognize this natural inspiration behind the gowns she created for this year's Met Gala. Grimes' 'Bene Gesserit' gown, inspired by Frank Herbert's Dune series, features cascading liquid silicone intertwined with hand-pleated gradient-dyed silk. The concept behind this dress was to have small waves flowing in different directions like a liquid labyrinth to enhance the feminine forms. "The patterns invite the viewer's eyes to travel through the labyrinth, creating an intimacy in motion. There is a symbiosis between the movement of the body and the garment, an optical illusion is created with water-inspired repetition and pattern," she comments.
Gabrielle Union's 'Aeternus' gown is inspired by the Apollo crew looking at Earth from the moon's perspective for the first time. A collection of 10,000 translucent white circles of different size gradients that took over 1,400 hours to create and assemble, Van Herpen sought to capture the dynamics between Earth and moon through this design. "By going away from Earth, there is a change in perspective and a feeling of interconnectedness," she describes. "I experienced this on a smaller scale when skydiving–a strong connection to Earth where we lose details of what separates us. When we go further away, we come closer to each other."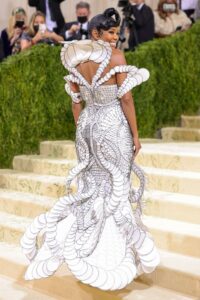 Iris Van Herpen's fuse of 3D printing with craftsmanship in Couture is a flagship technique she's incorporated into her work for more than a decade, identifying her as a pioneer of the use of modern technology in Haute Couture."My approach to fashion is very intricate and layered to come very close to the beauty and complexity of designs within nature," she remarks. "Zooming into the interconnected fabric of life has helped me to look beyond fashion's borders." 
Not only does Van Herpen have a passion and talent for designing from nature, she also has a strong sense of responsibility for protecting it. "We all have a role in sustainability and environmental awareness," she explains. "Every person, every discipline. Especially fast fashion—as its impact on our world is devastating." Van Herpen on the contrary creates 'slow fashion' and has been working with sustainable and upcycled fabrics, such as her work with Parley for the Oceans, to continuously explore new sustainable material solutions into the design process. Though she's never been to the Amazon, she feels a strong connection to it. "The Amazon is home to more animal and plant species than anywhere else on Earth, this incredible biodiversity is key for our own health and wellbeing; we are all interconnected with it. I feel very strongly about helping in its conservation and I will continue to do so. It feels especially critical at the moment." 
Though Iris Van Herpen notes that the conservation progress being made is impressive, there is still much work left to do, especially in fashion. She lamented the unsustainable elements at the core of the fast fashion industry based on overproduction, and cited that three out of five of all garments made end up in landfill within a year. In contrast, she commended indigenous peoples' ways of working with natural products they create. "To move forward in time, we have to look back at where we come from," she commented. "Sometimes we are too focused on the future that we've made up with imagination without really understanding our backgrounds. There is lots of knowledge to find again in our past."
To learn more about Iris Van Herpen,please visit her website here. To follow in Iris' footsteps and support conservation of the Amazon, see how you can make an impact here. More details about the auction to come.