Helping communicators tell the story of the Amazon
December 5, 2022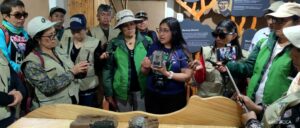 An important element of our work is to build the next generation of conservationists, who can tell the stories of the Amazon to local, national, and international audiences. Our Peruvian sister organization Conservación Amazónica – ACCA hosted a workshop for 15 members of the Cusco Environmental Communicators Network, who had the opportunity to visit and learn about the conservation and research work carried out at our Wayqecha Biological Station located in the cloud forests of Peru, just four hours from Machu Picchu. 
The communicators took a tour that began at the Andean Bear Interpretation Center, an ideal place for environmental education and citizen science that connects people with nature through displays of this iconic species. Researchers from Conservación Amazónica – ACCA presented the work they have been doing on the habitat and behavior of the Andean bear. Then they walked along the "Canopy Walkway", our one-of-a-kind suspension bridge from where you can see nature differently from the height of the treetops.
By the end of their visit, the group had gained valuable insight into life in the rainforest and how to communicate key challenges of the Amazon, gaining also a lifetime appreciation of all that the forest provides and simply is.