Highlighting MAAP's Innovative Work at 2023's Land & Carbon Lab Summit
June 29, 2023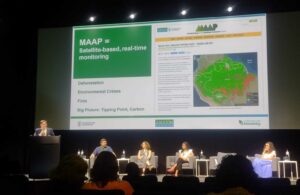 Amazon Conservation and our Peruvian sister organization Conservación Amazónica – ACCA made a special appearance at this year's Land & Carbon Lab 2023 Summit, hosted by World Resources Institute (WRI). Our Executive Director John Beavers, along with Conservación Amazónica-ACCA's Director of Technology for Conservation Sidney Novoa, made the trip to Brussels to present on our ever-growing Monitoring of the Andean Amazon Program (MAAP) and its impact on combatting illegal deforestation across the Amazon.
This year's Land & Carbon Lab Summit, sponsored by Bezos Earth Fund and Norway's International Climate and Forest Initiative (NICFI), partnered with leading scientists and technologists to curate best-in-class geospatial data on land use, land use change, and associated carbon stocks and flows, following the theme of "Monitoring Land, Mobilizing Action." This work builds and expands on Global Forest Watch, which provides high-resolution monitoring of the world's forests and serves as the basis of the analysis and action propelled by our MAAP initiative.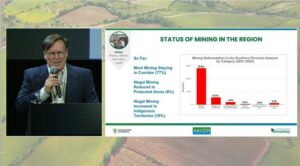 As part of a panel on "Satellite Monitoring of Forest Crime: A Tool for Awareness Raising and Advocacy," Amazon Conservation presented on how technology meets policy and action through our real-time monitoring MAAP program. Highlights from the presentation include our support of the Peruvian government's 2019 Operation Mercury and its success in curbing illegal gold mining in La Pampa, the importance of providing technology tools to local communities for them to monitor r own territories safely from the sky, and two case studies of our successful work mobilizing action in the Ecuadorian and Brazilian Amazon.
View the full panel presentation and discussion by visiting here and selecting "Satellite Monitoring of Forest Crime: A Tool for Awareness Raising and Advocacy" under Tuesday, June 27th. Our presentation starts at the 26:30-minute mark.