Japu: A Model for Wetland Restoration in the Peruvian Highlands
March 29, 2023
The Japu indigenous community is one of 5 indigenous communities that make up the Q'ero Nation, a nationality considered to be the last Inca stronghold as well as the place where forest conservation and wetland restoration emerge as a strategy to combat the impacts of the changing climate in the Peruvian Andes.
The technical support that our Peruvian sister organization Conservación Amazónica – ACCA has provided to this farming community since 2019 has allowed them to now have 37 acres of restored wetlands, which they are able to use as grazing areas for wild alpacas and vicuñas.
By learning about the restoration of their bofedales – a unique type of mountain wetlands that store water from melting glaciers or rivers – the residents of Japu have seen growing opportunities to share and pass along the knowledge and benefits of what they have learned by word of mouth in order to continue restoring their bofedales and pastures.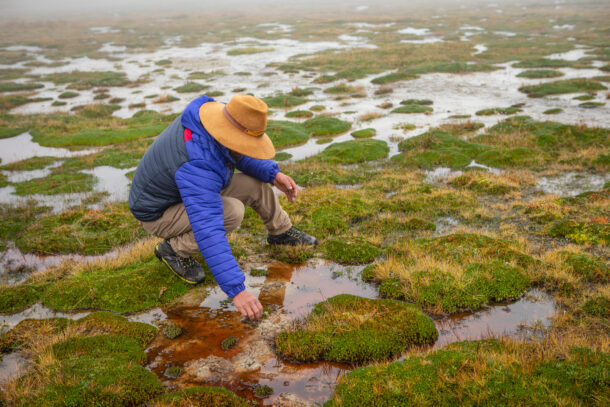 "Learning to restore our bofedales has been vital for us because it allows us to preserve the water that feeds other communities, while also providing our alpacas with food and nutrients that improve the quality of their wool," said Felicitas Huillca, a community member of Japu.
Bofedales are key for the community's resilience against climate change, as they are not only regarded as reservoirs of water but also for carbon, which is stored in the form of peat 4,000 meters above sea level in the high elevations of the Andes. In fact, bofedales can store as much as 120-285 tons of carbon per acre, compared to an average of 60 tons of carbon per acre stored in the Amazon rainforest. However, these incredibly important areas are also at risk of deterioration due to overgrazing of locally raised animals, high animal density, and poor management. 
Implementing a closure technique by using a metal grid fence called cattle panels, farmers can close off specific pastures for a determined amount of time to allow wetland plant and tree species to recover, reproduce, and give fruit and seeds once again. This process can take one to two years to recover one wetland area.
Currently, 40 families of the Japu community are restoring these montane bofedales and humid puna grasslands ecosystems across an area of approximately 24 acres, making it a successful model that other local communities are interested in replicating.
Similarly, the communities of Phinaya and Sibina Sallma – which are part of the Ausangate Regional Conservation Area in the Peruvian highlands that we helped establish a few years ago – have been working to restore bofedales since 2022. These restoration areas include 24 acres where livestock, such as alpaca and vicuña, are prohibited from entering in order to prevent overgrazing, as well as another 24 acres without livestock restrictions but with water flow management. By allowing for constant water flow and thus uniform irrigation across the bofedales, the communities help prevent waterlogging, flooding, and a lack of oxygenation in these vulnerable ecosystems. Based on their current success with these initial 48 acres, for 2023 the Phinaya and Sibina Sallma communities are considering expanding their restoration activities to include another 48 acres.
It is important to note that the conservation and protection of these ecosystems leads to an important increase in the water resources of two basins: 1) the Araza Basin, which irrigates the lands of the Inambari Valley, and 2) the Vilcanota Basin, which irrigates the lowlands areas of Canchis, Quispicanchi, Cusco, Calca and Urubamba. Both of these river basins encompass unique ecological biomes in a region where the Andes transitions into Amazon, lending itself to vast altitudinal gradients, vulnerable biodiversity and species, and extensive ecological corridors essential for the survival of species working to adapt to the warming climate. In addition, these water systems feed the Machupicchu hydroelectric plant in Machu Picchu, which provides electricity to the regions of Cusco, Apurímac and Puno. As such, this is a vital area for protection and conservation.
As these models show, farming communities in the Andean highlands of the department of Cusco are taking charge of the conservation and protection of one of their primary resources: water.
These activities have been implemented thanks to the technical support of Amazon Conservation's sister organization in Peru, Conservación Amazónica – ACCA, as well as other partner organizations such as Acción Andina, and thanks to the financial support of ECOAN, Global Forest Generation, Andes Amazon Fund and BIOLABS Foundation, with the goal of conserving degraded areas in Peru.