Keeping Forest-Based Economies Clean with Certified Organic Practices
March 4, 2023
Thanks to support and training from our Peruvian sister organization, Conservación Amazónica – ACCA, 146 Brazil nut harvesters that make up the Indigenous Forestry Association of Madre de Dios (AFIMAD) renewed the organic certification of their Brazil nuts through the meticulous verification and renewal process of the international Certification of Environmental Standards (CERES).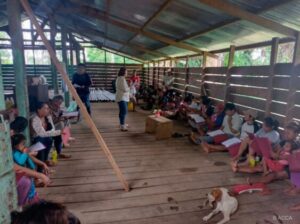 This certification will benefit the market value of the products from indigenous communities who manage the sustainable production and sale of 71 thousand tons of Brazil nuts annually while helping conserve the more than 12,000 hectares (over 29,652 acres) of pristine forest in the Peruvian Amazon in which they grow. 
Conservación Amazónica – ACCA provided technical assistance to help strengthen the capacities of Brazil nut harvesters on issues related to sustainable forest management, organic certification, and the regulatory aspects of CERES. This training and capacity building helps ensure the quality and organic integrity of the products and leads to the successful renewal of the organic certification, thus ensuring better access to higher-value markets for these harvesters and the conservation of a healthy forest.