Peruvian Government and Local Agro-exporters Association Committed to Economic Recovery that Protects Environment
May 2, 2021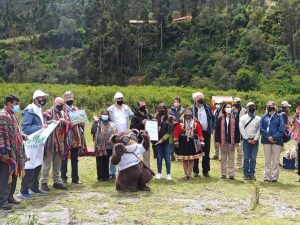 A group of three key conservation actors in Peru recently signed the Manu Conservation Agreement, which looks to promote exports, fair trade, and conservation of Amazonian forests in the vast Manu Biosphere Reserve in southeastern Peru. Through the sustainable commercialization of forest products that can only exist in healthy forests, this agreement works to build deforestation-free economic recovery for the area.
This agreement will benefit 51 local families by protecting 1,000 acres from deforestation and the 30,000 Peruvian groundcherry plants found within, that produce fruit that can be harvested and generate income. These plants have been a staple crop gathered by local communities, and have contributed to the area's conservation for the past eight years. The local communities, who have been committed to the conservation of Manu National Park from the beginning, are now being offered new opportunities with this agreement, because their products will move from local markets in Cusco to national markets, with the possibility of being exported internationally.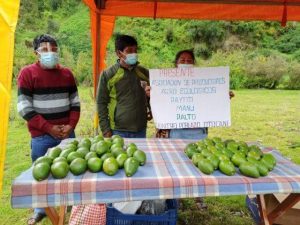 During the signing ceremony, the President of the Ukumari Paucartambo Agro-exporters Association, Ricter Cárdenas, stated in his speech: "First of all, I thank the National Service for Protected Areas (SERNANP)…as well as Conservación Amazónica -ACCA and the Frankfurt Zoological Society, because they always support us with their coordination.  We've been working on this for 6 years, and after 3 years, Conservación Amazónica -ACCA, SERNANP and two other organizations joined to support us." He also added that, "My colleagues and I are proud, we have finished delivering the fruit, now we are selling to a company thanks to much effort and training." 
Since 2019, we have supported producers in Challabamba through our sister organization on the ground in Peru, Conservación Amazónica -ACCA, with technical training from production to harvest, packaging and shipping, advice in the development of marketing agreements, of products such as aguaymanto, apple, passion fruit, avocado, coffee, in coexistence with the forests where the Andean bear lives. This is thanks to the alliance with the Resilient Amazon project – National Service for Protected Areas (SERNANP) PNUD. Through this project, we have been promoting the creation of the Manu biosphere project for zero-deforestation products.
The organizations who signed this agreement include the Ukumari Paucartambo Association of Agro-exporters, the National Service for Protected Natural Areas (SERNANP) and superfruit juice vendor Amaru Mayu Company. Ronald Catpo, the Conservation Director at our sister organization Conservación Amazónica-ACCA, was invited to join the signing ceremony that included the President of Peru, Peru's Minister of the Environment, the head of National Services for Protected Areas, the regional governor of Cusco, representatives of the Challabamba communities, ambassadors of the United Kingdom and Germany, and the Frankfurt Zoological Society.