Preserving Agrobiodiversity and Ancestral Farming Practices in Peru
August 12, 2021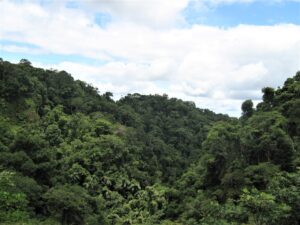 We helped establish two new protected areas to safeguard nearly 50,000 acres from deforestation and unsustainable development in one of the most biodiverse areas in the Peruvian Amazon. Señor de la Cumbre now protects 7,800 acres of forest in Madre de Dios, an area heavily affected by deforestation from illegal gold mining. The second supports indigenous communities in the Cusco region, where we helped establish the Ccollasuyo Agrobiodiversity Zone. This innovative type of protected area focuses on rescuing ancient agricultural practices capable of growing a wide variety of native crops sustainably. One of the first of its kind in the country, this area conserves over 35,000 acres of forest and the unique species that inhabit it.
Señor de la Cumbre
Small but mighty, this conservation area contains highly-biodiverse forests, important water sources, and has a high tourism potential thanks to its abundant wildlife. Due to its particular habitat and climate, Señor de la Cumbre is inhabited by several threatened species as well as species endemic to Peru, such as the saddle-back tamarin. To help protect this vital area and its important species, we provided the local community and government with the continuous legal and technical support needed, throughout the arduous 8-year process, to achieve its declaration.
The establishment of Señor de la Cumbre also helps advance our larger conservation strategy in the Manu-Madidi Conservation Corridor. By creating a mosaic of conservation areas like this one between Manu National Park in Peru and Madidi National Park in Bolivia – the two most biodiverse national parks in the world – we are strengthening habitat connectivity so that wildlife have the needed space to move across uninterrupted swaths of land. Not only that, but bridging large tracts of forest also builds greater climate resilience and adaptation capacity into the region's forest and aquatic ecosystems.
Ccollasuyo Agrobiodiversity Zone
Another conservation success was the establishment of the Ccollasuyo Agrobiodiversity Zone. This area, located in the Peruvian province of Quispicanchi, is home to a hundred indigenous Quechua families who cultivate more than 100 varieties of native potatoes, 12 types of native corn, and unique root vegetables such as oca, mashua, olluco, quinoa, kiwicha and tarwi. For generations, the families of Ccollasuyo have continued to apply their ancient practices to grow these plants that are important markers of the world's agricultural genetic diversity.
Complementing the conservation of this region, we also began to help a neighboring Quechua community, Marcapata Ccollana, to establish a conservation area that will protect an additional 50,000 acres. Combined, these agrobiodiversity zones and conservation areas help mitigate the effects of climate change in a unique way by promoting and preserving ancestral forest-friendly and climate-resilient farming practices.
This story was featured in our 2020 Impact Report. Click here to read about other conservation successes from 2020.