Preserving Indigenous Amazonian Cultural Heritage Through Art
November 12, 2021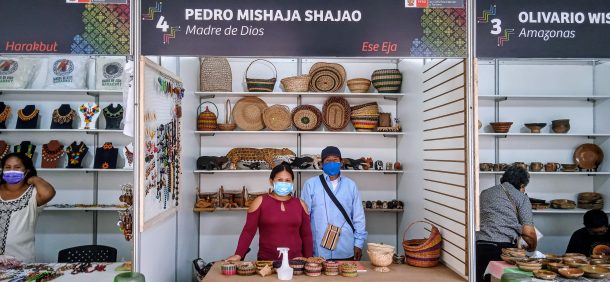 During the first week of November, the best of Peru's indigenous Amazonian crafts were showcased at the most important art exposition in the country. The National Native Art Fair is an important commercial platform for indigenous artisans from the Peruvian Amazon, and this event brought together 25 Peruvian artists and the best works from the 9 indigenous groups they represent: Awajún, Ashaninka, Matsigenka, Shipibo-Konibo, Yanesha, Ikitu, Kukama Kukamiria, Ese Eja and Harakbut, which come from 8 regions of the Peruvian Amazon, including Amazonas, Cusco , Lima, Pasco, Loreto, Ucayali, Junín and Madre de Dios. 
The Peruvian Ministry of Foreign Trade and Tourism selected four artisans from Madre de Dios to participate, including two from Infierno, an indigenous Amazonian Community our on-the-ground sister organization in Peru, Conservación Amazónica – ACCA directly works with. Chosen were Pedro Mishaja, the President of the local Association of Artisans and Livia Meshi, who is also a member of the association. Their involvement during this fair are part of Peru's strategic economic revitalization and revaluation actions supporting indigenous peoples. We assist their community in the management of non-timber forest resources such as açaí or Brazil nuts, as a strategy for adaptation and mitigation against climate change, a project supported by Euroclima. Together, we have been strengthening Brazil nut harvesting activities and agroforestry systems with an emphasis on cocoa and transformation of Amazonian fruits.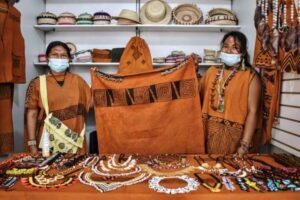 Signature artwork from the Infierno community include ceramics and textile art, as well as fabrics in tamshi, a plant fiber derived from a set of hemi-epiphytic plants that grow among the treetops in Amazonian forests. The use of tamshi is renowned for being part of the nation's cultural heritage as its use preserves the legacy of the Peruvian Amazon's ancestral techniques. A very important resource to local communities, its roots are used to construct houses, manufacture utensils, and design handicrafts. The artisans also showcased topa and palo balta wood carvings representing the most emblematic animals of the jungle such as jaguars, giant otters, jaguars or macaws. Additionally, necklaces, earrings, and bracelets made from organic materials including huayruro palm seeds line the jewelry displays, and coconut-based utilitarian products such as pencil holders and baskets were also shown.
At the opening ceremony of the National Native Art Fair the Minister of Foreign Trade and Tourism, Roberto Sánchez, invited the public to learn about the handmade products on display that included pottery, ceramics, textiles, costume jewelry, carving, jewelry, vegetable fibers, musical instruments and paintings. "I want to invite everyone to get to know the work created by our artisan brothers of the original Amazonian peoples," he stated. "Here you will be able to shop, chat and learn more about their customs and cultures."