Recovering Paco Ponds and Gardens at Manu Biological Station
April 26, 2021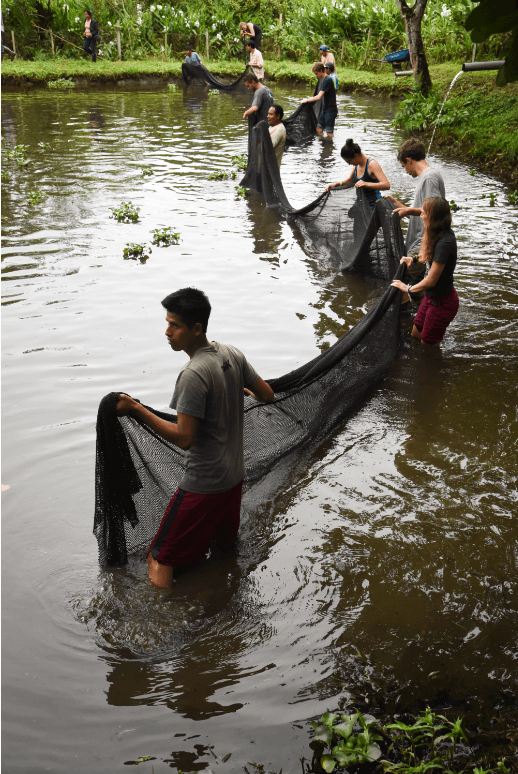 Since last year, we have been busy making improvements for researchers and ecotourists at our Manu Biological Station (previously called Villa Carmen) in the Peruvian Amazon. In addition to vegetable garden and trail recovery, since November 2020 we've been in the process of locating areas for construction and adaptation of ponds for Piaractus brachypomus fish or "paco" as they are commonly called. Responsibly raised, this type of high-protein fish helps generate sustainable livelihoods in the Peruvian Amazon and acts as an important food source for local people. We are using these sample ponds at our biological station to teach visitors the importance and conservation value of this species in the region and provide them the experience of "fishing" for their own dinner.
The idea for this initiative began with a local association of aquaculturists (called Asociación de Acuicultores de Primavera Alta y Primavera Baja) when they saw the need to lower the costs of running sustainable fish farms to make them better alternatives to other forms of livelihoods that may destroy the rainforest. We've been working with local and indigenous communities in Peru for 2 decades, helping establish over 200 fish ponds for sustainable use.
We have already begun recovering our paco ponds at Villa Carmen. After purchasing 600 young fish from local sources, we proceeded with creating the proper living conditions, to help the  young fish adapt to the smaller pool. Three months later, they will be transferred to a larger pool so they can continue to grow. Thus, it is estimated that in 8 months there will be pacos sustainably raised for consumption by visitors and local workers at our biological stations. 
Additionally, we are working on recovering other areas aside from paco ponds, including gardens for bird watchers, our famed traditional medicine plant garden, as well as adding endemic flowers and yuccas to our vegetable garden. Click here to learn more about our Manu (previously called Villa Carmen) Biological Station and come visit us.