Ruthmery Pillco, Who Leads Our Andean Bear Conservation Project, Named Disney Conservation Hero
March 20, 2022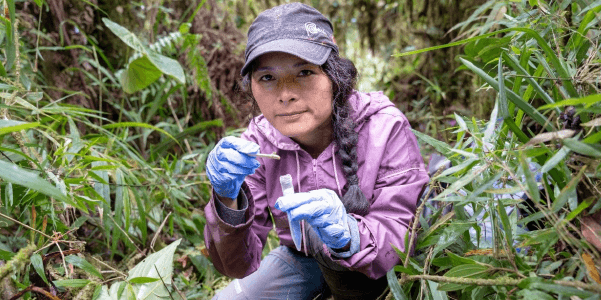 Ruthmery Pillco, who leads field activities for our Andean Bear Conservation Project, was recently announced as one of fifteen Disney Conservation Heroes, recognized for their efforts to protect the planet. She joins a diverse global community of indigenous conservationists protecting critically endangered and threatened species such as Grauer's gorillas, golden lion tamarin monkeys, and leatherback sea turtles.
The Disney Conservation Fund awards grants annually to individuals and organizations working together to stabilize and increase the populations of at-risk species. Ruthmery's work to protect the Andean bear in the Peruvian Amazon, which is categorized as vulnerable to extinction by the IUCN Red List of Threatened Species, has earned her this distinction from Disney. During this project, she works with local communities to reforest areas for the Andean bear's habitat and restore native plant species. She also leads a field team to identify and record information about the bears' distribution and diet. Additionally in Costa Rica, her botanical expertise and project leadership enabled her team to help prevent the extinction of a rare and critically endangered plant species in the cinnamon family that has only been known to scientists since 1998. Her team carefully collected seeds from the only four mature plants found in the wild, propagated and planted them to grow the wild population of this species.
Ruthmery joins the latest cohort of 15 Disney Conservation Heroes across 13 countries who work with local communities to care for wildlife and their habitats, including those who protected their own land as nature reserves to individuals who found new ways to support wildlife while honoring cultural traditions.
"We know that behind each of these [conservation] efforts are dedicated individuals going above and beyond to ensure a world in balance," writes Claire Martin on Disney's blog, who helps manage the awards. "These Heroes have each taken risks, shown courage, and contributed to an inspiring global story of hope for the future."