Major Conservation Win: New Protected Area Established in Peru
October 15, 2020
Great news for conservation: Señor de la Cumbre, a 7,800-acre area in Inambari, Madre de Dios, Peru has been officially established as a conservation area!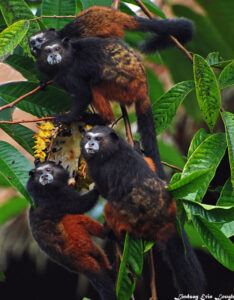 Our sister organization, Conservación Amazónica – ACCA, provided the local community and government with legal and technical conservation support throughout the 8-year long process. Even though it was a long process, the persistence by all parties now means this vital piece of the Amazon is now protected. The official declaration notice can be found here in Spanish.
This conservation area has forests highly diverse in flora and fauna, important water sources for cities in the region, and high tourism potential thanks to its beauty and abundant wildlife. Due to its particular habitat and climate, this area is also home to several species endemic to Peru (such as 3 species of saddle-back tamarin), some categorized as "threatened", which makes this new area even more significant.
The establishment of this area is moving our conservation strategies forward in the Manu-Madidi Conservation Corridor. By creating a mosaic of conservation areas like this one between Manu National Park in Peru and Madidi National Park in Bolivia – two of the most biodiverse places in the world – we're connecting forests so that wildlife can move across uninterrupted swaths of land, which is essential for species that need large habitats to survive.
This work has been made possible by the generous support of the Andes Amazon Fund (AAF) and the Gordon and Betty Moore Foundation.