This Earth Day Matters More – How you can prepare for it
April 19, 2021
1) Know What's at Stake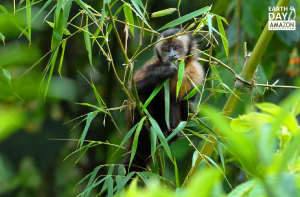 As an ecosystem, the Amazon is one of the most biodiverse places on earth. Over 3 million species live in the rainforest, and over 2,500 tree species (or 1/3 of all tropical trees that exist on earth) help create and maintain this vibrant ecosystem. More and more, biodiversity is at risk.
There's a reason why the rainforest is so essential: 70% of South America's GDP is produced in areas that receive rainfall or water from the Amazon. The Amazon influences rainfall patterns as far away as the United States.
COVID-19 and the global pandemic had a devastating effect on the local and regional economies, and on Amazonian nations' ability to defend protected areas and indigenous lands. Now is the time to help the region build a more sustainable future.
2) What We're Doing
We track deforestation in the Amazon in real-time. Recently, we reported that the Amazon lost nearly 2.3 million hectares (5.6 million acres) of primary forest loss in 2020 across the nine countries it spans. This represents a 17% increase in Amazon primary forest loss from last year. See how we do this in the Washington Post.
We're creating conservation areas that protect key spaces and genetic diversity, creating a mosaic of interconnected landscapes. Learn more about our latest conservation area.
We're advancing scientific research on the ground, opening a new laboratory at our Los Amigos Biological Station that studies and monitors biodiversity in the region. The knowledge gained from this research will help us better protect these areas.
3) Some ways you can help