145 Fires Impact 2.1 Million Acres in Bolivia: September 2021 Fires Update 
September 14, 2021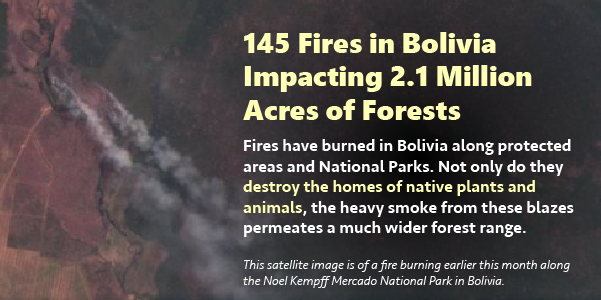 Our Monitoring of the Andean Amazon Project team has been using our fires app throughout the season to provide real-time updates about the fires raging across the Amazon. In Bolivia, we registered around 145 fires in the country to date, of which more than 100 are considered major fires.These are distributed mostly in the departments of Beni and Santa Cruz, with some in La Paz and Chuquisaca, burning mostly in grassland areas, followed by forest areas. The most affected places are the Chiquitano forest and the Chaco.
Acreage of Burned Areas
In the Beni there are currently more than 1.7 million acres (700,000 hectares) of forests impacted due to the fires, corresponding mainly to grassland areas. According to data from colleagues in the department of Santa Cruz, more than 338,000 acres (137,000 hectares) have been impacted since the end of July. This number will have increased considerably since then, due to the peak fire season being in August. As the fire season lasts through November, we will update with more information as the season progresses.
Fires Last from Days to Weeks
Fires can last from one day to multiple weeks depending on the type of land cover where they are burning. For example, the fires in the department of Beni, where the majority have been, usually burn for one or two days in the savanna areas. In Santa Cruz the fires are more intense, sometimes lasting weeks. Most of the fires now are burning agricultural areas, but there are already several protected areas impacted, already exceeding thousands of acres. These fires are concentrated in the transitional sector of the Pantanal savannas and Chiquitanos forests.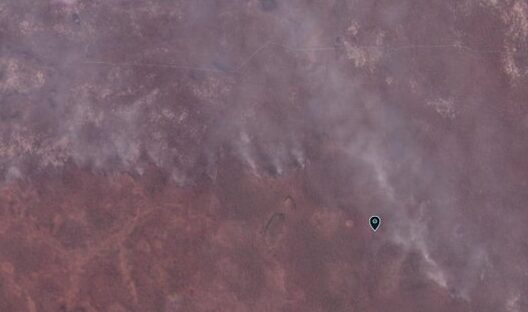 Effect on Animals
The negative effects on fauna and plant species is evident especially in protected areas. Cloudy skies from fire smoke affect animal populations, as Amazonian species breathe in smoky air that was carried beyond the burned area by the wind. Rehabilitation of animals as always will be difficult in the affected regions, especially where they have experienced a longer fire season. In our next evaluation, we will likely see the severity be more intense than what we are observing at the moment.
Support Fires Response Efforts in Bolivia
Currently, we are aiding fire response efforts on the ground in Bolivia, as many municipalities are underfunded and in some areas do not even have access to water. Click here to protect forests and animals from the impacts of these fires and support our fire response efforts.