Happy Holidays from Amazon Conservation!
December 16, 2021
Dear Friend of the Amazon,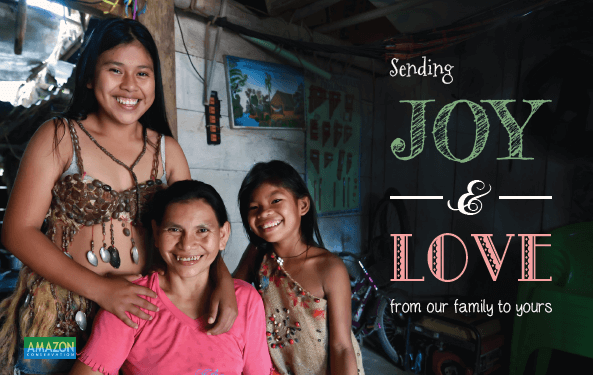 Blanca Pedraza, her daughter, and her niece (shown right) are all part of the Toromonas indigenous community, located deep in the forests of the northwestern Bolivian Amazon. Like many in her community, Blanca's family depends on the harvest of organic forest products – like Brazil nuts and açaí berries – to survive. Brazil nuts are a flagship product in this part of the Amazon and vital for local economies and forest conservation. That is because when communities harvest these forest products that cannot grow in a monoculture, they protect the forests from being used for destructive purposes – like cattle ranching and unsustainable agriculture.
With your support, we've partnered with the Toromonas to make their harvest even more fruitful. As part of our efforts to enhance the management of Brazil nut trees, we're helping the Toromonas women's club transform raw Brazil nuts into organic products that can be sold for a higher price. The club, which Blanca is a member of, is focusing on producing Brazil nut oil, a delicacy in high demand by the country's growing gastronomy scene. Helping local businesses like theirs grow strong while keeping forests standing is one of the many ways you are helping us achieve a thriving Amazon.
This holiday season we are especially grateful for your kind support in keeping conservation moving forward and for helping Blanca and families like hers on the front lines of forest conservation. Thank you for spreading joy this season, and happy holidays to you and your family!
Sincerely,
Your friends at Amazon Conservation
Do you want to support families and initiatives that protect the Amazon? For a limited time, now until December 31, any gift you give to our innovative conservation programs will be MATCHED. That's right, for every tax-deductible dollar you contribute, $2 will go towards the conservation of the Amazon rainforest and headwaters. Click here to make a difference today.