50 Years of Manu National Park: Our Role in Protecting It
May 16, 2023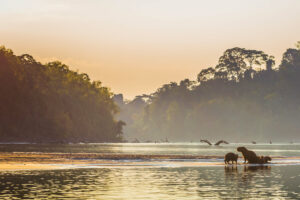 In 1973, over 3.7 million acres of tropical forests were formalized as Manu National Park: a protected area located between the foothills of the Andes Mountains and Amazon basin in southeastern Peru. It serves as one of the most globally recognized areas for terrestrial biodiversity, and around 850 different species of birds, as well as rare species like the giant otter, have been identified here. In 2009, the National Park extended to cover the foothills of the Andes, totaling 4.24 million acres of protected areas. Today, 50 years later, the park continues to be a haven for conservation enthusiasts and researchers alike.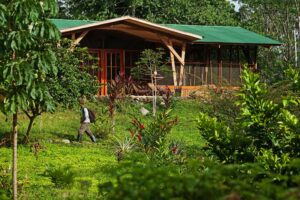 Amazon Conservation established the Manu (formerly Villa Carmen) Research Station  (pictured right) in August of 2010 as a conservation hub to promote sustainable agroforestry and aquaculture, host educational programs, and further incorporate local communities into conservation efforts. Its main intent is to do what we do best: contribute to the understanding and protection of the greater Manu landscape. 
The station is part of 7,500 acres of land within the UNESCO-designated Manu Biosphere Reserve, spanning an elevational gradient of 1,700 to almost 4,000 feet above sea level. It follows the Manu River basin that runs through the Madre de Dios and Cusco Departments, borders the Madre de Dios watershed, and Amarakaeri Communal Reserve in southeast Peru. Neighboring right on the edge of the National Park are two more of our research stations: Wayqecha Cloud Forest Research Station, located at elevations ranging from 6,500 to 9,800 feet above sea level, and down the Andes foothills near the southeastern edge of Manu National Park, Los Amigos Conservation Hub at less than 1,000 feet in elevation.
From cloud forests to montane and lowland rainforest, our stations work to support and protect an incredible array of species found in a variety of habitats. The vital areas protected within Manu National Park are a core part of the Manu-Madidi Corridor: 23.5 million-acre stretches of protected forests within the Manu National Park in Peru that connect with Madidi National Park in Bolivia. Protecting these large areas of biodiversity and ensuring connectivity for these landscapes not only helps protect habitat and food sources for wildlife in the region, but it is also an important tool for minimizing the impacts of climate change. As the planet continues to get warmer and ecosystems change, flora and fauna will need to adapt as well. Ecological corridors and increased connectivity provide species with more options to adapt, such as the ability to safely move uphill into cooler forests.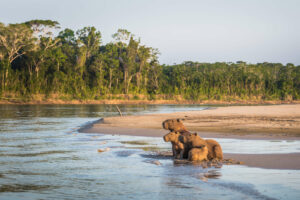 Despite the many factors that can threaten these vital habitats, Amazon Conservation is working hard with partners on the ground to protect these areas, using our technological and scientific expertise in combination with our history of successful partnerships with government agencies, as well as rural and indigenous communities that reside within and in buffer zones around Manu National Park. With new monitoring enforcements carried out by communities and government officials, key data for law enforcement, decision-making, and management can help strengthen protection measures for communities and governments, mitigating impacts from major threats.
As we celebrate this 50th Anniversary of Manu National Park, we greatly appreciate the government of Peru for all of its work to protect the incredible biodiversity of Manu National Park over the past 50 years. We are honored to work alongside partners from SERNANP (National Service of Natural Areas Protected by the State), Serfor (National Forestry and Wildlife Service), Zoological Society of Frankfurt (FZS) and the San Diego Zoo, as well as other non-governmental organizations and local communities to protect the Manu Biosphere Reserve.
Read more about our conservation efforts on the ground, and how we work to keep biodiversity and local communities safe and sound.