Amazon Legal Clinic Launched in Peru
July 21, 2023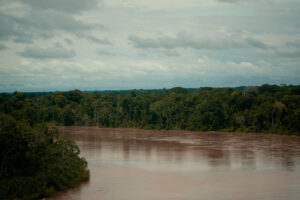 A major roadblock that Amazonian communities face to protect their natural resources and territories is the lack of knowledge and access to legal support. To help fight environmental crimes and empower local people to actively participate in legal processes against forest crimes, our sister organization Conservación Amazónica – ACCA has launched Peru's first Amazon Legal Clinic.
The Amazon Legal Clinic, created with the support of the Amazonía Que Late Network, connects young attorneys with local people who want to file a deforestation claim or report a forest crime. It enables local people to receive pro-bono support while the attorneys support the conservation of the Amazon. The clinic provides free legal advice, representation, and assistance in criminal and administrative matters for people in the Ucayali, Loreto, San Martín, Amazonas, Cusco, and Huánuco regions.
This transformative initiative will help those affected by forest crimes, such as illegal mining, deforestation, illegal logging, or wildlife trafficking, to have access to the support they need to report the crime and help action be taken on the ground. "Without legal support, many local people end up never reporting environmental crimes. By providing this service for free, we can support our forest guardians and indigenous peoples to take action," says Claudia Castillo, an attorney at Conservación Amazónica – ACCA.