Empowering Future Generations of Conservationists
December 1, 2022
We believe empowering people starts with the youngest generations of future forest friends.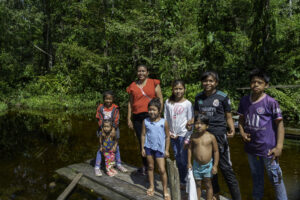 Our innovative programs allow people like Rosa Quete to establish protected areas where education, conservation, and play come together to make a lasting impact on young learners.
In the community of Motacusal, Rosa Quete established and leads the Bosque de Niños (Children's Forest), which she hopes will serve as an example of effective sustainable agroforestry practices for youth and a source of knowledge sharing between generations. 
Motacusal is the first community with this type of forest, which covers over 116 acres of forest set aside strictly for the children of Motacusal. With access to their own protected area, the children can experience first-hand all that the forest provides and gain a better understanding of the importance of protecting for the present and future health of the greater environment around them.
Thanks to your support, Rosa can promote education as a means to empower future leaders — especially young women — to preserve the forest's natural biodiversity through sustainable agroforestry.