Celebrating our Incredible Women in Science 
February 12, 2021
Putting science at technology to work for conservation is one of our three core approaches to protecting the Amazon, and our conservation hubs serve as important research centers for scientists from around the world to conduct studies in rainforest environments. But according to data from the UNESCO Institute of Statistics, less than 30% of the world's researchers are women, and environmental conservation has historically been known as a male-dominated field. This #WomenInScience Day, we highlight some of the impressive scientists in our organization that are reinforcing this career path for future young researchers interested in conservation.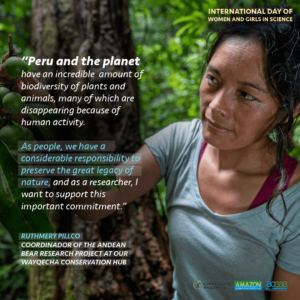 Ruthmery Pillco, originally from a small village outside of Cuzco, Peru, is the coordinator for the Andean spectacled bear research project at our Wayqecha Biological Station. She is a trilingual speaker of Spanish, English, and Quechua, and has extensive experience as a field biologist, having written an undergraduate thesis on woolly monkeys and working on a master's one about Andean plants and climate change. When asked why she chose biology as a career, Ruthmery replied that, "From a very young age I have always been curious, and wondered why things are [the way they are] and how to solve problems," and cites her greatest scientific accomplishment as the propagation of the Costa Rican Pleodendron, which is an extremely rare tree species considered a "living dinosaur". Only 5 mature trees are known in the world, and the seeds that she was able to plant is helping prevent the species from becoming extinct.  Regarding her Andean spectacled bear research at Wayqecha, she most looks forward to learning more about the ecology of this species and how it will be affected by climate change, telling us that, "Peru and the planet have an incredible biodiversity of plants and animals, many of which are disappearing due to human activity. As people, we have a considerable responsibility to preserve this great legacy, nature, and as a researcher, I want to support this important commitment."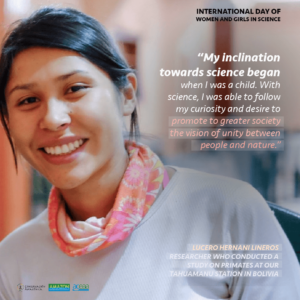 Over at our sister organization Conservación Amazónica – ACEAA in Bolivia, we highlight researcher Lucero Hernani Lineros, who coordinated with the Amazon University of Pando to conduct research on primates at our Tahumanu Biological Station in Bolivia. Lucero cites this experience as the start of her passion for studying primates, though her inclination towards a career in science began in her childhood. With science, she says, "I was able to follow my curiosity and desire to promote to greater society the vision of unity between humans and nature." When asked about what she thought was her biggest achievement, she highlights a research project she conducted over a span of two years studying the effect of anthrophony on the behavior and physiology of grey titi (Plecturocebus donacophylus),a project that will be shared in the International Congress of Primatology of IPS – SlaPrim in Ecuador next year.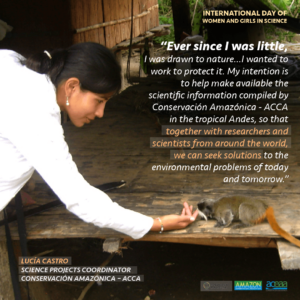 Lucía Castro, the Science Projects Coordinator at Conservación Amazónica – ACCA in Peru, recalls that since she was little, she was drawn to nature as it piqued her curiosity. "Over time," she says, "I wanted to work to protect it." As a Science Projects Coordinator, Lucia is always in contact with researchers, working together to implement technology that assists conservation studies. She also helps with forest conservation initiatives, assuring the local populations in Cusco and Madre de Dios have sustainable livelihoods. When asked about what her goal was, Lucia replies, "My intention is to help make available the scientific information compiled by Conservación Amazónica – ACCA in the tropical Andes, so that together with researchers and scientists from around the world, we can seek solutions to the environmental problems of today and tomorrow."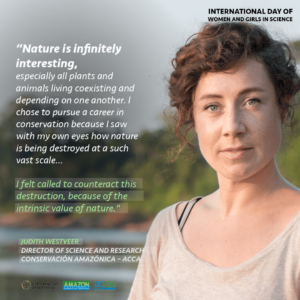 Finally, Judith Westveer is our Science Director at Conservación Amazónica – ACCA and currently lives in Madre de Dios, Peru, which is a long way from her home in the Netherlands. Judith helps drive conservation forward by developing the science vision for our three conservation hubs in Peru, and wants to make sure that the Andean Amazon ecosystem is studied so that it can be better protected. Judith was drawn to pursuing a career in science because in addition to being naturally talented in math and biology in school, she believes that "nature is infinitely interesting, especially how all the plants and animals live together and depend on each other." This, in part, led her to the field of conservation. She tells us, "I witnessed with my own eyes how nature is being destroyed on a large scale. The subjects I studied during my bachelor's, master's, and PhD were in sensitive areas that may no longer exist. I feel called to counteract this destruction, by the intrinsic value of nature." Additionally, Judith feels her greatest scientific accomplishment is not her various publications on wetland restoration during her Ph.D, but the presentations and conversations she had with local communities, provincial working groups, and the Dutch government based on her scientific results. With this, "they understand how the results of my research could lead to action, and thus rivers and streams are now better managed and protected."
Scientists like these incredible women take on important initiatives to protect forest, research critical conservation topics, and advance our knowledge of the Amazon. We are grateful for all the incredible work they do!