Conservation Goes Virtual During Pandemic
February 15, 2021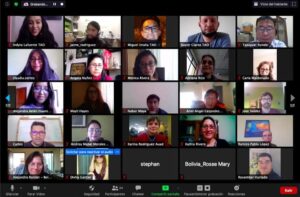 Despite the challenges of not being able to enter conservation areas and regularly meet with the communities that we partner with due to the ongoing COVID-19 pandemic, we've been able to adapt our conservation training programs to be delivered through online.
Recently, our sister organization in Bolivia, Conservación Amazónica – ACEAA, hosted a series of webinars on sustainable forest products. This included a webinar on açaí, a very important fruit that grows in the Amazon Rainforest. Families harvest these berries and sell them at local and regional markets as a key source of income. Because açaí cannot survive in a monoculture environment, that is, it can only grow in wild forests, local communities have the incentive of protecting their forests so that this valuable berry can thrive.
Additionally, from February 9 -11 Conservación Amazónica – ACEAA led a series of workshops on ways to improve how ecological data is used in Bolivia, in partnership with NatureServe and iDiv Biodiv Research. These virtual forums brought together nearly 90 experts from public and private organizations that specialize in the generation of biodiversity data and its applications to  conservation in the country as part of the TAO (Tropical Andes Observatory) Project. 
The groups aimed to find solutions for how biodiversity data is generated, integrated and delivered to decision makers in critical biodiversity points such as the tropical Andes so that they can be taken into consideration when policies are developed around conservation. Results and best practices developed in the workshop are now being compiled and will be distributed to partners in Peru, Ecuador, Spain and Germany for knowledge sharing and implementation in other areas.