COVID, Kids, and Diversity: Birds of Illusion
June 2, 2020
The Biodiversity Day Contest: "If you could fly, which bird would you be?"
By María Elena Gutierrez
Most of us living in the city would enjoy the opportunity to spend quarantine in a house in the middle of the forest, closer to nature.  We could appreciate spending the day listening to the birds, smelling the flowers, or admiring the movements of a calming river.  
COVID-19 has shown us how vulnerable our society is, how the pressure that we put on wild animals has disastrous consequences, and that our individual decisions have to be considered as part of the whole picture.  But fear shouldn't govern us.  On the contrary, we should reinvent ourselves as one family living in the same house: Earth.
Because of that, our sister organization in Peru, Conservación Amazónica -ACCA wanted to celebrate Biodiversity Day, May 22nd,  in a different manner.  We wanted to involve the future leaders who, without a doubt, have a much higher environmental conscious than we do, and who have inherited the responsibility of handling the extremely fragile planet.  I am referring to our children.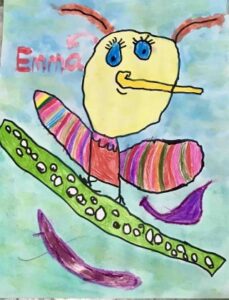 May 9th was Global Big Day, a day to celebrate the fascinating diversity of birds around the world.  Thousands of birdwatchers enter forests and take pictures of birds in their natural habitats, and if they observe a new species of bird they can register it.  Peru is the second most bird-diverse country on the planet and since we couldn't participate this year, we organized a competition for children agews 5-12 to motivate them to birdwatch at home, and to draw pictures of any birds they might see through their windows.  We asked them "if you could fly, which bird would you be?"  We asked them to describe the bird that they would be and explain their reasoning.  The results were marvelous.
Emma, a six-year-old girl from San Miguel (near Lima), demonstrated her watercolor skills by painting a picture of a bird who has the power to turn anyone who harms the jungle into better people.  Her wings also heal sick animals when they fall to the ground.
For his bird, a 7-year-old Daniel invented a bird called the cacatrua.  Daniels bird is considered extinct, has feathers with a wide array of colors, and feeds on wild flowers.  On top of all this, it can give presents to it's friends and asks for help from it's woodpecker friends only when necessary.
Amazonas, an 11-year-old from Huanchoc, Cusco, labored for three days trying to paint her flycatcher just right.  We dare to say that she has the makings of a true artist, but we hope that she continues to quench her thirst for knowledge about birds. In her description, she denotes that her bird can help exterminate pests that reside on plants.  We don't know if she's aware of it, but she touched on a very important role birds play in the Amazon, as their presence is vital to maintain an equilibrium within an ecosystem.
Behind each piece of art there are very moving cases, such as the teacher who submitted drawings from her students.  The mothers who, on top of all their other responsibilities, are now homeschooling their children and working remotely, sent us pictures of their kids.  Or the proud fathers who saw their kids painting the birds of their surroundings.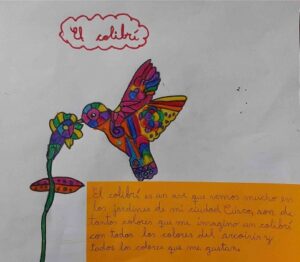 The vast majority of children describe themselves as feeling like they're birds in captivity.  Some have a more optimistic tone, while others are annoyed by their entrapment.  They also saw in the bird the quality that deep down they liked more of in themselves.  Some described memories with their grandfathers, being awestruck at the elegance of the birds they would watch together.  Others were extremely passionate about the biology of the creatures.  But they all had the ingenuity and sincerity that only a child can possess.
Will there be birdwatchers in the future?  Will businesses be environmentally conscious?  Will we convert anyone into an investigator in our biological stations at Wayqecha or Los Amigos?  Will there be artists focused on conservation? Political leaders with sustainable visions?  We don't know.  But we have learned that in the middle of a pandemic there's one thing to focus on for the future: promoting environmental knowledge to children.  And we hope that you add on to our agenda, whether you're an artist, professor, journalist, uncle, aunt, mother, or father.  If your child wants to fly, would you help build them wings?