Putting Science and Technology to Work at our Biological Stations in Peru
December 1, 2022
Establishing the first state-of-the-art genomics lab in the Amazon.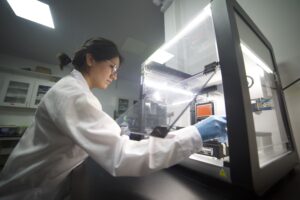 All of our biological stations in Peru feature laboratories equipped with cutting-edge technology for scientists and students to conduct research.
Recently, Jhakelin Reyes Vasquez, a Peruvian scientist, has been working in the Wildlife Conservation Laboratory studying genomics and collecting data on zoonotic diseases. Your support allows laboratories like this to exist. Using these tools, we can more closely and accurately monitor the health of the forest and its wildlife inhabitants at a closer scale and do it all on-site with our own equipment – allowing our biological stations to become important sites for science throughout the Amazon.
There is much still undiscovered in the Amazon. This one-of-a-kind lab enables scientists to conduct cutting-edge studies on advanced wildlife genomics and monitoring of key species right in the heart of the Amazon without the delay, cost, and complications of transporting samples to bigger labs. By safely taking DNA samples of wildlife and domestic animals in the region – without harming or killing any animals and following strict security protocols –scientists at the Wildlife Conservation Laboratory will monitor the health and disease status of a range of species, including frogs, snakes, and monkeys, even plant life. To achieve this, some of the scientific activities carried out at the Laboratory include sample bio-banking, expanding biological archives for the Amazon rainforest, field testing pathogens and environmental contaminants, and developing sequencing solutions for population monitoring of key species. 
Your support can create opportunities like the Wildlife Conservation Laboratory for local scientists like Jhakelin so that cutting-edge scientific research is not simply a top-down effort, but rather one that is home-grown and fosters the next generation of biologists.