II Encuentro: An Exchange of Experiences
August 11, 2023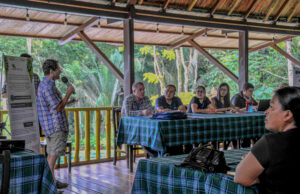 Last month, ACA's second Norad-sponsored workshop "II Encuentro" was held in Tena, Ecuador to share experiences and evaluate our satellite monitoring program MAAP across the Amazon basin. This workshop brought together organizations and indigenous groups from Peru and Ecuador such as Fundación EcoCiencia, FENEMAD (Native Federation of the Madre de Dios River and Tributaries), and local representatives from the indigenous Shuar-Arutam and Waorani communities to discuss and improve the use of MAAP, as well as how to increase local capacities and engaging governments to apply the law.
In Ecuador, satellite monitoring is handled by Fundación EcoCiencia, which seeks to reduce deforestation and forest crime by creating a network that supports regional monitoring efforts throughout the Amazon.​ Fundación EcoCiencia has a direct relationship with the community monitors of the Shuar Arutam People and the Waorani Territory, who carry out community monitoring activities through platforms that receive information from provided technologies. Subsequently, technical reports are produced and made available to the proper authorities within the indigenous communities.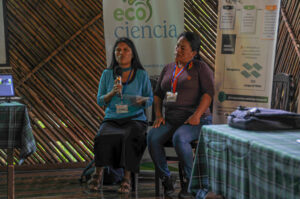 Similarly in Peru, oversight offices across the Amazonian region have significant legal support and enact protocols for alerts through the National Forestry and Wildlife Service (SERFOR), which recognizes them as a technical unit established within the indigenous communities and organizations to provide technical advice in the forestry and environmental field. These precautions are being taken to build a national community monitoring and surveillance system, with the support and recognition of environmental authorities to work alongside monitoring these efforts. As many threats and pressures on Amazon persist, strengthening the legal framework and visualizing strategies for satellite monitoring in indigenous communities is critical.​
​As the evaluation of methodologies for analyzing satellite images, data, map monitoring, systems implementation, and use of technological tools carried on, communication processes were also discussed to facilitate decision-making and to consolidate more timely, accessible, and precise work to combat these threats. Likewise, promoting the development of joint and technological work, based on each experience, allows us to reinforce and improve these processes.
For these five days, those who took part in the analysis of MAAP learned from the experiences that each partner holds in their own countries, through the study of satellite images on deforestation, and other pressures on Amazon forests.