MAAP #85: Illegal Logging in The Peruvian Amazon, And How Satellites Can Help Address It
June 1, 2018
We propose a new tool to address illegal logging in the Peruvian Amazon: using cutting-edge satellites to monitor logging road construction in near real-time.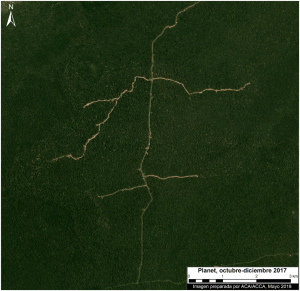 Illegal logging in the Amazon is difficult to detect because it is selective logging of individual valuable trees, not large clear-cuts.
However, a new generation of satellites can quickly detect new logging roads, which in turn may indicate the leading edge of illegal logging.
Here, we analyzed satellite imagery to identify all new logging roads built in the Peruvian Amazon over the past three years (2015-17).
We then show how it is possible to track logging road construction in near-real time, using three satellite-based systems: GLAD alerts, Sentinel-1 (radar satellites), and Planet (optical satellites).