Inauguration of Cacao Processing Plant and Andean Bear Interpretation Center in Peru
July 29, 2022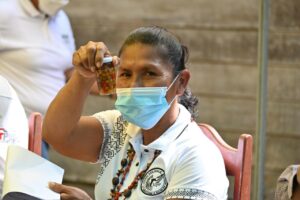 Over the past month, Amazon Conservation inaugurated two new critical facilities that mark important milestones for our conservation efforts in Peru. The first is a new processing plant, which is fundamental in our Productive Forests program that supports sustainable, forest-friendly livelihoods under our Empowering People strategy. The second is a new Interpretation Center, dedicated to promoting environmental education about the Andean bear and advancing science to help conserve the bear's habitat as part of our Putting Science and Technology to Work strategy. Both accomplishments are examples of how Amazon Conservation continues to go deep in our work with communities and habitats at the headwaters of the Amazon.
Cacao and Copoazu Processing Plant Inaugurated in Madre de Dios
On June 30, the indigenous community Infierno in Peru's Madre de Dios department inaugurated a new processing plant for cacao and copoazu, strengthening the sustainable livelihoods of 19 families. With this new plant, local cacao and copoazu producers in the region are now able to produce high-quality products to be marketed both nationally and internationally. With the support of our sister organization Conservación Amazónica–ACCA in Peru, producers from Infierno received organic certification for their cacao through the Cooperativa Agroindustrial de la Interoceánica Ltda. (COOPAIDI), thereby opening up new international markets for their products.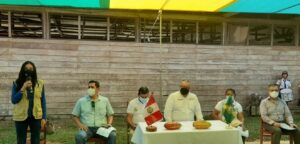 The creation of this processing facility is the result of a public-private effort between private companies, regional governments, and local communities to ensure the preservation of the artisanal quality of cacao and copoazu (a tropical fruit also known as "white chocolate"). At the inauguration, María Elena Gutiérrez, Executive Director of Conservación Amazónica–ACCA, announced, "This is a day of celebration for the people of the Native Community of Infierno, with whom we have been working for many years, and represents a huge step in their ability to make a living from native cacao and copoazu, not only in national but also international markets. At Amazon Conservation, we believe that sustainable livelihoods are vital so that people can live with a healthy and resilient Amazon."
This project was made possible thanks to financial support from Euroclima+ and the collaboration of technical teams from the Ministry of Production, the Ministry of Agriculture and Irrigation, and the Ministry of External Commerce and Tourism of the Regional Government of Madre de Dios who are working together to rescue and promote native products, in particular cacao, and to strengthen the regulation of these products.
New Andean Bear Interpretation Center Raises Awareness About Keystone Species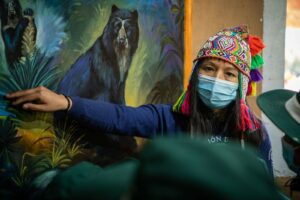 On July 1, a new Andean Bear Interpretation Center was inaugurated in our Wayqecha Conservation Hub in Peru's department of Cusco. Located in a cloud forest in the buffer zone of Peru's Manu National Park, this area is critical for conservation efforts thanks to its high biodiversity and endemic species and its position as a natural corridor for plant and animal species pushed uphill by global warming, making it an ideal location to connect national and international visitors with nature and science.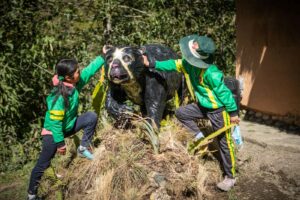 The Andean Bear Interpretation Center is an important space for environmental education for local students and our science team at our sister organization Conservación Amazónica – ACCA in Peru as we work to better understand the behavior of the Andean bear, also known as the spectacled bear. A threatened species and the only bear in South America, the Andean bear is a keystone species in this region of Peru, currently under threat by habitat loss, forest fires, hunting, and animal trafficking. Since their territory covers long distances, they also play a critical ecological role in dispersing seeds across high elevations and thus regenerating forests.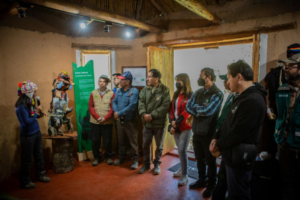 Amazon Conservation's Andean Bear Conservation Program, led by Ruthmery Pillco, has been working to protect their habitats and restore the plants that are part of their diet through conservation efforts alongside local populations, for whom the Andean bear is a cultural icon. Through citizen science, community-based reforestation, and environmental education efforts, we hope to restore the habitat necessary for this species' survival and raise awareness about the vulnerability of cloud forest ecosystems in the face of climate change.
The Andean Bear Interpretation Center was made possible through the support of the Stadler Foundation, International Conservation Fund of Canada, Mitsubishi Corporation Foundation for the Americas, International Association for Bear Research & Management, Barker Langham, and the neighboring communities of Manu National Park buffer zone.