Swift Action Following Our MAAP Report Halts Illegal Mining in Ecuadorian Amazon
February 13, 2022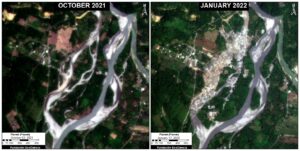 Earlier this month, we worked with our in-country partner EcoCiencia to document the rapid illegal mining expansion threatening the Ecuadorian Amazon.  With our satellite-based tools, we were able to identify the mining in real-time, and report it to local authorities, media, and the general public. Days after we launched the report, both the government and local people took action against this illegal deforestation.
Our report revealed the alarming illegal mining expansion of 173 acres (70 hectares) over four months in Yutzupino, located in the Ecuadorian Amazon's Napo province. Though it took place from October 2021-January 2022, most of the illegal expansion occurred recently in December. Though the Ecuadorian government carried out a field intervention in January to confirm the illegal activity, it continued to advance, increasing by at least 15 acres (6 hectares). We also documented the mining deforestation of 79 acres (32 hectares) between November 2019 and November 2021, on the banks of the Río Punino on the border between the provinces of Napo and Orellana.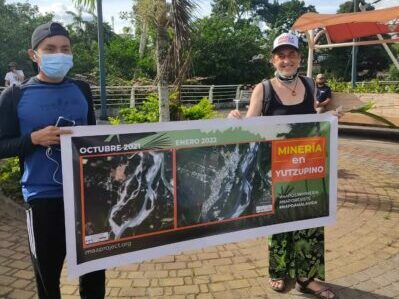 Following the publication of this report, citizen demonstrations against illegal mining activity took place in Tena, the capital city of Napo. Local residents participated in a march against illegal mining, alongside representatives of the organization COICA (Coordinator of Indigenous Organizations of the Amazon River Basin), which advocates for indigenous peoples on a regional and international level, and CONFENIAE (Confederation of Indigenous Nationalities of the Ecuadorian Amazon), a regional organization of indigenous peoples in the Ecuadorian Amazon. Satellite images from this report, showing the alarming side-by-side of increased deforestation, were printed on banners for this march alongside the hashtags in Spanish, "Napo Without Mining", "Napo Values Life", and "Napo Resists".
Mining activity in Yutzupino has been acknowledged and denounced by several local organizations in the past but after the publication of this report, public interest and coverage in the local and international media spiked. Pressure mounted for authorities to take action against this illegal activity and five days later, authorities implemented a large-scale operation consisting of 1,600 police and military. After this, the illegal mining activity in the monitored zone of Yutzupino has stopped, machinery was seized, and they are still in the process of investigating those responsible.
This report is part of a series focused on the Ecuadorian Amazon through a strategic collaboration between the organizations Fundación EcoCiencia and Amazon Conservation, with the support of the Norwegian Agency for Development Cooperation (Norad).