Make-A-Will Month: When There's a Will …
August 11, 2023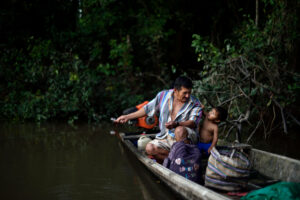 There's definitely a way. Your will is your way to protect your loved ones, ensure your wishes are honored, and even make a lasting impact in the Amazon through your legacy. 
August is Make-A-Will month and as a supporter of Amazon Conservation, you've seen firsthand how we can work together to support the conservation of the world's most diverse ecosystem. Now, you have the chance to join 40 other Amazon Conservation supporters in leaving behind a legacy to protect the precious biodiversity of the Amazon, empower local communities, and continue our conservation efforts to inspire future generations of conservationists.
Thanks to help from our partner FreeWill, you can get access to the best estate planning tool for free! By creating your will this month, you'll make a way to protect your loved ones and ensure a thriving future for the Amazon. In just 20 minutes, you can join thousands who are making a will this month to create your own will by:
Dictating your vision for the future, and for the future of your assets

Showing your loved ones just how much you care about them

Creating a sustainable, lasting impact on Amazon Conservation's mission to unite science, innovation, and

people to protect the greatest wild forest on Earth.
As the saying goes, "Where there's a will, there's a way." FreeWill's tool guides you through each step of writing your will, you'll have the option to make a planned gift of any amount to Amazon Conservation. By committing just 5-10% of their estate to our mission, many donors choose to build an incredibly impactful legacy with Amazon Conservation while ensuring their loved ones are also taken care of. By using this service, you'll get lifetime access to make updates and changes to your plan at no cost.
This August, join the growing number of supporters who have planted a seed for a future where the Amazon continues to thrive as a source of life, inspiration, and natural wonder! 
Your dedication continues to be a beacon of hope for the Amazon. Together, we can ensure this vibrant source of life and natural wonder continues to flourish for future generations.