Create a Lasting Conservation Legacy and Support Conservation For Years to Come During National Make-A-Will Month
August 19, 2021
Dear Friend of the Amazon,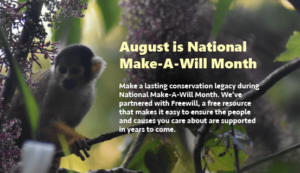 If we've learned anything in the past year and a half, it's that life can change quickly and we need to adapt even quicker. As you may have seen in our reports, the fire season in the Amazon has already begun in full force. It hasn't been in the news the same way that it was in the past 2 years, but, with the high rates of deforestation in the Amazon and unprecedented droughts, it's shaping up to be even more intense. To stop the fires from getting worse every year, we need to focus on prevention, stopping deforestation, and planning for a healthier future beyond COVID-19. Your support so far has helped us get started on that. And for that we thank you.
Amidst the many challenges, there are always things to be grateful for. Whether that be your own health or big environmental victories that you helped us achieve to protect our planet, we hope you have found gratitude this past year. 
In that spirit, we want to share that August is National Make-a-Will Month! You've been there for Amazon Conservation throughout our journey of growth, so we wanted to ask you to consider adding us to your will to ensure you have a long-lasting impact and legacy in the Amazon. Whether you've never made a will at all or need to update yours, this is a good time to think about the future of the people – and planet! – you love the most.
If you're just getting started, you can use FreeWill, a free, online resource that guides you through the process of creating a legally valid will in 20 minutes or less. We partnered with them to provide this service to you, but know that we do not receive anything from this partnership. We just want to give you the tools to make your will planning and charitable gifts a little easier. If you'd rather use another tool or a personal lawyer and still leave a kind gift to Amazon Conservation (at no cost to you now!), we'd be extremely appreciative. 
So this August, we invite you to prepare for the future ahead by writing or updating your will. 
P.S. When you created your plans, did you include a gift to the Amazon Conservation Association in your will? Please fill out this quick form to let us know!