New MAAP Report Provides a Carbon Update in the Amazon, based on NASA's GEDI Mission
November 20, 2023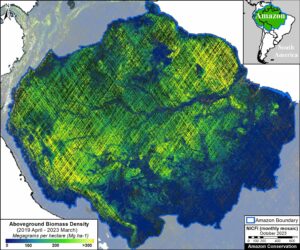 MAAP #199 provides an update on the current state of remaining Amazon carbon reserves. Presenting the newly updated version of NASA's GEDI data, which uses lasers aboard the International Space Station to provide cutting-edge estimates of aboveground biomass density on a global scale, we take a first look at striking maps of the current aboveground biomass across the Amazon biome, highlighting the peak carbon densities in the northeast Amazon and southwest Amazon.
The peak biomass concentrations in the northeast Amazon include Suriname, French Guiana, and the northeast corner of Brazil. The peak biomass concentrations in the southwest Amazon are centered in southern Peru. Also note that many parts of Ecuador, Colombia, Venezuela, Guyana, Bolivia, Brazil, and northern Peru have high carbon densities as well.
An estimate of >78 billion metric tons of aboveground biomass across the Amazon biome was calculated among the laser-based data, coming to the estimated equivalent of >37 billion metric tons of carbon. Given that the laser-based data has not yet achieved full coverage across the Amazon, this is certainly an underestimate.
This work was supported by NORAD (Norwegian Agency for Development Cooperation) and ICFC (International Conservation Fund of Canada).