San Antonio Community in Bolivia is First in the Region to Receive Equipment That Improves Sustainable Harvesting
September 15, 2021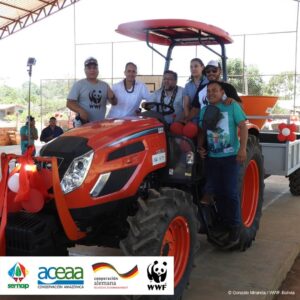 The Amazonian forests of northern Bolivia are home to acres upon acres of Brazil nut trees that support a myriad of animal and plant species, as well as local communities, such as San Antonio within the national Manuripi Amazon Wildlife Reserve. Like many in the Bolivian Amazon, the members of the San Antonio community work to sustainably harvest forest products to support their livelihoods. 
On September 12, our sister organization on the ground Conservación Amazónica-ACEAA, delivered equipment that will make sustainable harvesting for the community members of San Antonio easier, including a tractor and seed-dispersing equipment, with an approximate investment of 380,000 bolivianos (55,000 USD), together with our funder WWF Bolivia and our partner Bolivian National Service of Protected Areas (SERNAP in Spanish). The delivery of this equipment to support productive harvesting will help bolster the local economy and improve the quality of life for Amazonian communities, as well as encourage protection of the forest. 
"This is a longing that we have always had. Now we have the challenge of organizing ourselves in the best way to use these tools for the benefit of everyone, always maintaining the health of our forests," said Ronald Montes Beyuma, President of the Community of San Antonio during the delivery ceremony. The San Antonio community is the first in the region to have this equipment, which supports the extraction and removal of Brazil nuts and improves transport practices in collection and storage. We will also support training processes for the use and management of these tools.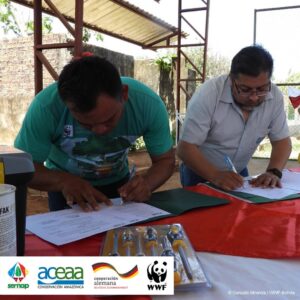 "The importance of promoting the integral management of Amazonian forests and supporting the production of Amazonian fruits are activities that keep forests standing in time to improve the quality of life for local communities," said Marcos Terán, the Executive Director of our sister organization Conservación Amazónica-ACEAA.
This equipment will benefit 22 families that each own plots of 1,200 acres, whose objectives are the conservation of this area and the promotion of the use of wild resources. Sustainable harvesting of products such as Brazil nuts promotes the preservation of forests, as it generates income for local communities without resulting in the deforestation that products such as timber would cause. Additionally, Brazil nuts can only survive in healthy forests, not in aggressive monocultures, making protecting these forests essential to their harvest. 
This collaboration is part of the project "Alliances and Multiactor Platforms: Sustainable economic management of natural reserves in Bolivia, empowering local and indigenous communities" with financing from BMZ Germany.