Scaling Across the Wider Amazon with New Partners in Ecuador and Venezuela
December 22, 2022
Thanks to our strategic collaboration with organizations Fundación EcoCiencia in Ecuador and SOS Orinoco in Venezuela, we saw two great successes with reports from our Monitoring of the Andean Amazon Program (MAAP), that resulted in on-the-ground action taken against illegal mining in the Amazon.
Together with EcoCiencia, we published a report revealing the alarming illegal mining expansion of 173 acres (70 hectares) over four months in Yutzupino, located in the Ecuadorian Amazon's Napo province. Though the Ecuadorian government carried out a field intervention in January to confirm the illegal activity, it continued to advance, increasing by at least 15 acres (6 hectares).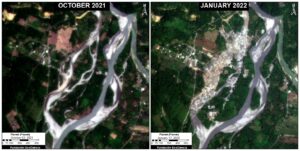 Following the publication of this report, citizen demonstrations against illegal mining activity took place in Tena, the capital city of Napo. Local residents participated in a march against illegal mining, alongside representatives of the organization COICA (Coordinator of Indigenous Organizations of the Amazon River Basin), which advocates for indigenous peoples at the regional and international level, and CONFENIAE (Confederation of Indigenous Nationalities of the Ecuadorian Amazon), a regional organization of indigenous peoples in the Ecuadorian Amazon. Satellite images from this report, showing the alarming side-by-side of increased deforestation, were printed on banners for this march alongside the hashtags in Spanish, "Napo Without Mining", "Napo Values Life", and "Napo Resists". Investigations into those responsible were started at the request of several local organizations.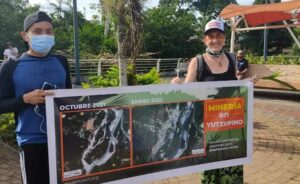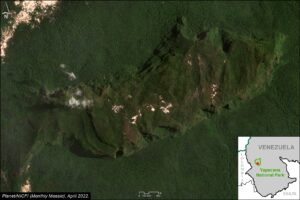 With support from SOS Orinoco, we published MAAP reports #156 and #169 exposing illegal mining operations on top of a sacred mountain in a protected national park in Venezuela. These reports caught the attention of The Washington Post who then published their own article on December 6, 2022, detailing the mining operations using work by our MAAP team.
Two weeks after the publication of the article in the Post, on December 20, 2022, a troop of the Venezuelan Armed Forces (FANB) raided the camp dismantling the mining camps and destroying mining equipment. At time of writing we are still waiting to see if legal actions or investigations will be taken against those responsible.