MAAP #45: Threats To El Sira Communal Reserve in Central Peruvian Amazon
September 21, 2016
El Sira Communal Reserve, located in the central Peruvian Amazon (regions of Pasco, Huánuco and Ucayali), aims to protect the biological diversity of the El Sira Mountain Range in benefit of the native communities of the area (Ashaninka, Yanesha, and Shipibo-Conibo indigenous groups).
This report presents an initial threat assessment for this large national protected area, which covers more than 615,000 hectares (1.5 million acres).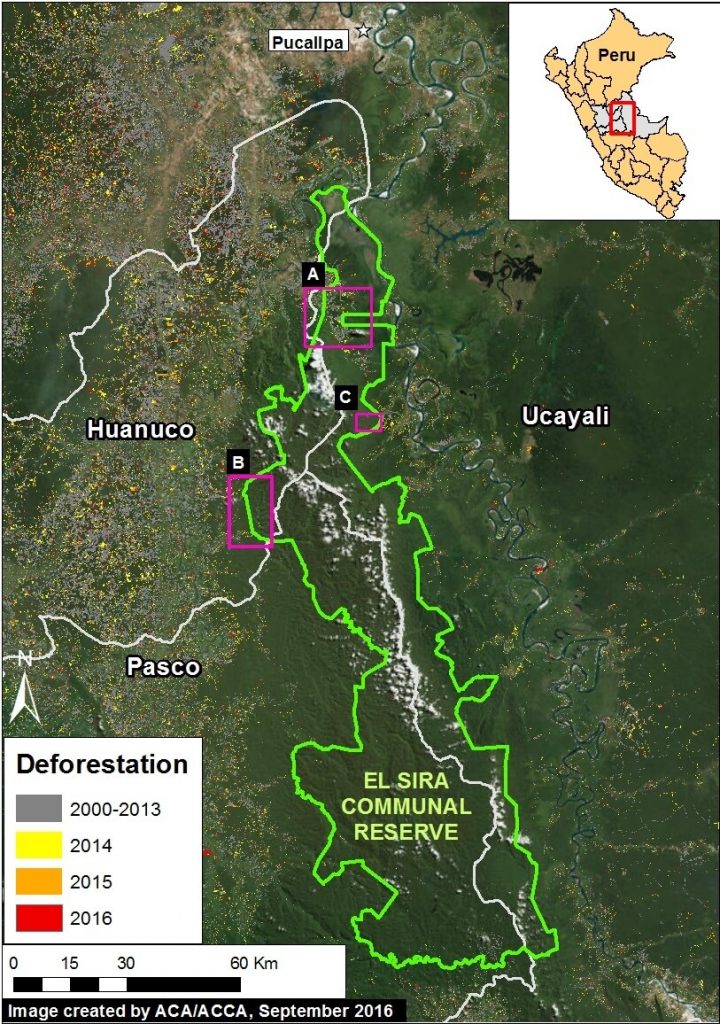 We identified 3 threatened sectors of the Reserve, as indicated in Image 45a (see Insets A-C).
We found that the principal drivers of deforestation in these three sectors are agriculture & cattle pasture (Insets A and C) and illegal gold mining (Inset B).
It is important to note that the deforestation for agriculture & cattle pasture continues to rapidly increase – 1,600 hectares (3,950 acres) since 2013 – while the deforestation for gold mining has been limited due to regular interventions by the Peruvian government.
Below, we show high-resolution satellite images of the recent deforestation in all three threatened sectors. Click each image to enlarge.