Piloting innovative technology to better understand ecology of terrestrial birds
September 9, 2020
How young researchers used automated listening devices and machine learning techniques to advance avian science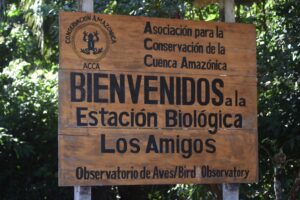 Since our founding, in partnership with hundreds of scientists and universities, we have supported scientific investigation that leads to better understanding of the Amazon and informs decisions and actions to protect it. The centerpiece of these efforts is our network of three Conservation Hubs in Peru. Each hub is a premier research station, ecolodge, conservation area, and training center. One way we advance science at our hubs is by supporting the next generation of biologists with scholarships and guidance for them to carry out field research.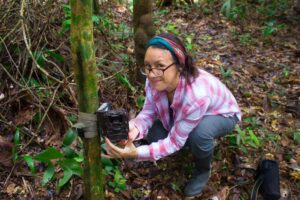 Reid Rumelt, a student from Cornell University, and Carla Mere, a Peruvian biologist, are two of our 255 scholarship recipients to date. Funded by our Jonathan Franzen Fellowship aimed at supporting young avian researchers, Reid and Carla carried out a research project in 2019 at our Los Amigos Conservation Hub, piloting innovative acoustic monitoring technology and artificial intelligence to understand bird life and their habitats.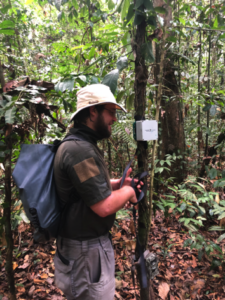 Using a new type of audio recording device, they studied Tinamou birds, which are notoriously hard to detect by sight, even though our Los Amigos Hub is renowned for its presence of a whopping 11 species of tinamou, some of which are endangered. "They are far more often heard than seen," Reid comments. "The use of emerging technologies [like electronic listening devices] to better detect tinamous will be critical to conservation of these forest habitats."
The recordings and creation of a novel artificial intelligence model to distinguish the songs of tinamou resulted in finding a total of 13,702 tinamou vocalization events over 1,200 hours of audio. Of all these vocalizations, they were able to identify 9 species of tinamou, and, thanks to our hub's large variety of ecosystems, identify which type of species live in each type of habitat. This approach and data analysis piloted at Los Amigos will serve as a springboard for future studies, advancing the field of avian research and better informing conservation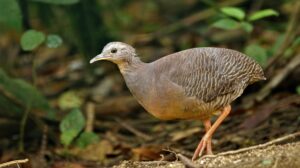 solutions to protect this species.
Also at our hubs, this year, in partnership with the Andes Amazon Fund, we hosted a Technology for Conservation workshop, where experts from private and public sectors met to exchange ideas and develop new ways to use the latest in technology to protect nature. By testing and piloting cutting-edge technology at our hubs, we can gain a deeper understanding of the conservation needs of the Amazon and all species who call it home.

This was a story from our 2019 Impact Report. Click here to read about other conservation successes from 2019.