Training Park Rangers at Los Amigos in First Monitoring Technology of its Kind in Peru
February 3, 2023
The park ranger team at Los Amigos recently completed training in the use and management of EarthRanger, a software that aids protected area managers, ecologists, and wildlife biologists in making more informed operational decisions for wildlife conservation. EarthRanger will allow park rangers, or "promotores" in Spanish, to better monitor and stop environmental threats such as logging, mining, and deforestation connected with these threats. Los Amigos Conservation Hub is the first entity to use this new technology in all of Peru.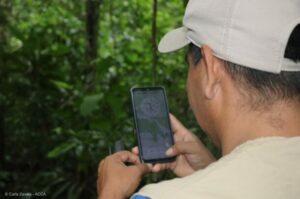 The two day workshop covered the properties of the software and how it can be used as an effective monitoring tool with simply a tablet or smartphone.  The software also facilitates data collection from the field from anywhere at anytime with backup protection to the cloud. This means, that teams on patrol can collect data without worrying about signal or loss of data due to connectivity issues. The software can also be coupled with animal tracking devices such as tags or collars which can make tracking animal routes and locations much more effective and timely.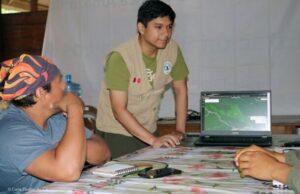 "This tool greatly facilitates the collection and organization of geospatial data in the field at no cost, achieving greater efficiency in information management, reducing processing times and having an intuitive graphical interface that favors the visualization of the collected data. The great thing about this tool is the large number of additional cloud-based plugins that can be included, the great technical support and regular updates it receives", highlighted Osmar Yupanqui, GIS and Remote Sensing assistant at our Peruvian sister organization, Conservación Amazónica – ACCA and who was responsible for the training.
The team of park rangers at Los Amigos have indicated that this new tool will help them improve animal monitoring, the monitoring of environmental crimes and threats, and will allow them to produce alerts and                                                                                                                   reports in a more timely manner.