Invest in Our Future this Earth Month
March 30, 2023
Spring is here and April is Earth Month! We're celebrating the season of blooming and fresh starts by reflecting on ways we each can Invest in Our Future to Invest in Our Planet. Protecting the Amazon for future generations of animals and people who call it home is a huge task we can only achieve by working together and doing our part. Join us in Investing in Our Future to ensure a thriving Amazon for years to come.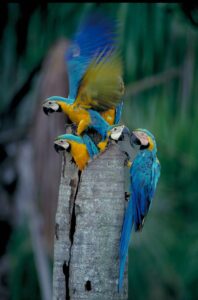 Here are 4 quick and easy ways you can Invest in Our Future and the Amazon this April:
1. Create your legacy for the Amazon by making your will today: Our trusted partner FreeWill is a great place to begin your estate planning process because it's a free online solution that guides you through writing your will and making your legacy gift, all in about 20 minutes!
When you include Amazon Conservation in your estate plan, you're investing in the future of our planet by ensuring our organization continues our fight well into the future. A legacy gift is an act of solidarity with our advocacy and education programs, which empower the youngest generations of future forest friends.
Make your will today and help us defend the Amazon for the next generation!
2. Become a Wild Keeper and help make our conservation programs more sustainable: When you donate to Amazon Conservation every month, you are providing the sustainable support we need to ensure the longevity of our programs on the ground across the rainforest. Starting your monthly donation of any amount in honor of Earth Month facilitates your giving plans and deepens your impact because recurring gifts help us plan for ongoing support of our most essential conservation efforts with long-term impacts.
Planting your seed as a Wild Keeper today means our programs that help prepare and empower youth will be able to flourish as youth conservationists, like these children in the community of Motacusal in the Bolivian Amazon and the Andean Bear Interpretation Center in the cloud forests of Peru, which serves as an important learning space for environmental education for local students and young scientists. 
Learn more about what it means to join our community of Wild Keepers here.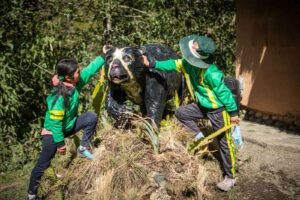 3. Learn the different ways to make your impact bloom: Do you know the variety of ways you can make your contribution to Amazon Conservation count? Check out our Ways to Give page and explore if your contribution might qualify for a match from your employer, explore other donation means that could mean bigger tax benefits, or consider sharing your love for the Amazon by selecting "I Want To Fundraise for This" on our Donation Page to start a Peer to Peer Fundraiser to raise funds to Invest in Our Future.
4. Get inspired! As you take in the start of spring and think about the future of the planet you want, share what inspires you. Work with your family, friends, and community to find a way that makes sense to plant your seeds. Plant a garden, go for a walk or bike ride, or share drawings or paintings of your favorite Amazon flora and fauna. Share your inspiration with us by tagging us @amazonconservation and using #InvestInTheAmazon!