MAAP #65: Deforestation Hotspots Of 2017 in The Peruvian Amazon
August 9, 2017
In an earlier report, MAAP #40, we highlighted the power of combining early warning GLAD* alerts with analysis of high-resolution satellite images (for example, from the company Planet), as part of a comprehensive near real-time deforestation monitoring system.
In the current report, we analyze the GLAD alerts for the first half of 2017 (through July 17) to identify current deforestation hotspots in the Peruvian Amazon.** These alerts indicate an estimated total forest loss of 37,000 acres (15,000 hectares) thus far during the year.
Image 65 (see right) highlights the 2017 deforestation hotspots, defined here as areas with medium to high density of forest loss.
Below, we describe and show images of the most intense hotspots, indicated in red and orange.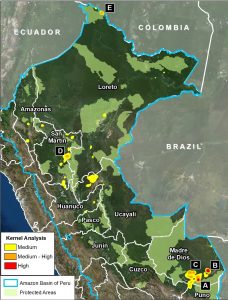 These areas include:
Buffer zones of Tambopata National Reserve and Cordillera Azul National Park
Natural loss due to blowdowns from "hurricane winds," in the Madre de Dios region
Northwest border with Colombia