New Fire Monitoring App Pinpoints Major Fires in Amazon in Real-time, Successfully Identifies First Major Fire in Brazil
June 10, 2020
WASHINGTON, DC, June 10 – Amazon Conservation today announced the launch of a new real-time fire monitoring app, hosted by Google Earth Engine, in anticipation of the 2020 fire season. The app specializes in providing real-time detection and prediction of large fires across the Amazon basin to help prioritize containment efforts by key actors on the ground, such as government agencies and fire brigades. The app can pinpoint the exact location and source of major fires. 
A major feature of the app is the detection of major fires across the Amazon, based on aerosol emissions detected by a new European Space Agency satellite. When fires burn biomass, they emit aerosols into the atmosphere, and it's these aerosol emissions that the satellite is able to detect. The app also contains a cross-reference to commonly-used "fire alerts," which are additional satellite-based data of temperature anomalies. Users can combine data from these two sources to more reliably establish a fire's origin point.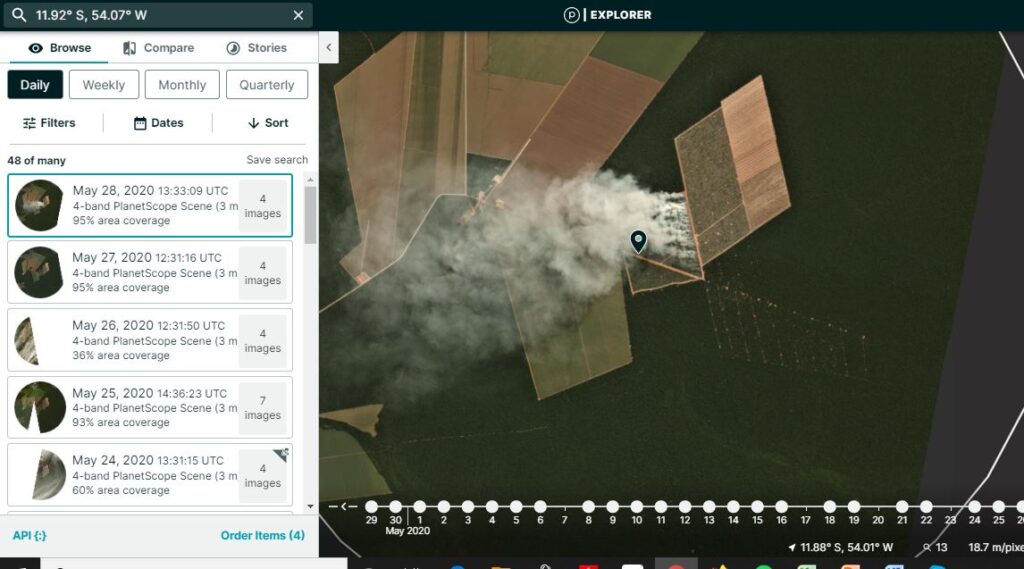 "This new app is powerful because it combines the strengths of two key satellite-based data sources: emissions in the air and heat on the ground," said Dr. Matt Finer, Senior Research Specialist at Amazon Conservation and lead author of the report. "Each data source alone provides basic information, but combined they provide actionable information for the government and firefighters to be able to address major fires."
The new app has already identified the first major Amazon fire of 2020. In the Brazilian state of Mato Grosso, a fire burned 882 acres of an area that had been deforested in July 2019. 
This new finding supports Amazon Conservation's research during the severe 2019 fire season, which revealed that the majority of fires in Brazil occurred on recently deforested land, not in standing forests. 
As recent deforestation continues to lead to severe fires and current analysis shows that the Amazon Rainforest is drier this year due to lower levels of rainfall, this app is an important step in predicting, finding, and containing large fires before they become unmanageable and escape into protected areas or indigenous reserves. 
Amazon Conservation has made this fire monitoring app easily available to anyone with an internet connection and will continue to monitor and report fire events as they happen in real-time across the Amazon through its Monitoring of the Andean Amazon Project (MAAP). 
About Amazon Conservation
Amazon Conservation is a 501(c)3 nonprofit that unites science, innovation, and community to protect the western Amazon – the greatest wild forest on Earth. Amazon Conservation has been pioneering conservation efforts in the tropics since 1999. Its unique approach focuses on three strategies: empowering people to become champions for conservation while improving their quality of life; protecting millions of acres of wild places home to hundreds of thousands of species of wildlife; and employing the latest discoveries in science and technology into the field of conservation. 
Sources
MAAP #118: Real-time Amazon Fire Monitoring App Full Report –
https://maaproject.org/2020/amazon-fire-app/ 
View Amazon Conservation's Fire Monitoring App on Google Earth Engine –
###
For more information contact:
Ana Folhadella, Communications Manager
Amazon Conservation 
Office: (202) 234-2356
Info@amazonconservation.org