AmazonTEC 2020 Key Takeaways: Building a Sustainable Amazon Through Science, Technology, and Governance
November 13, 2020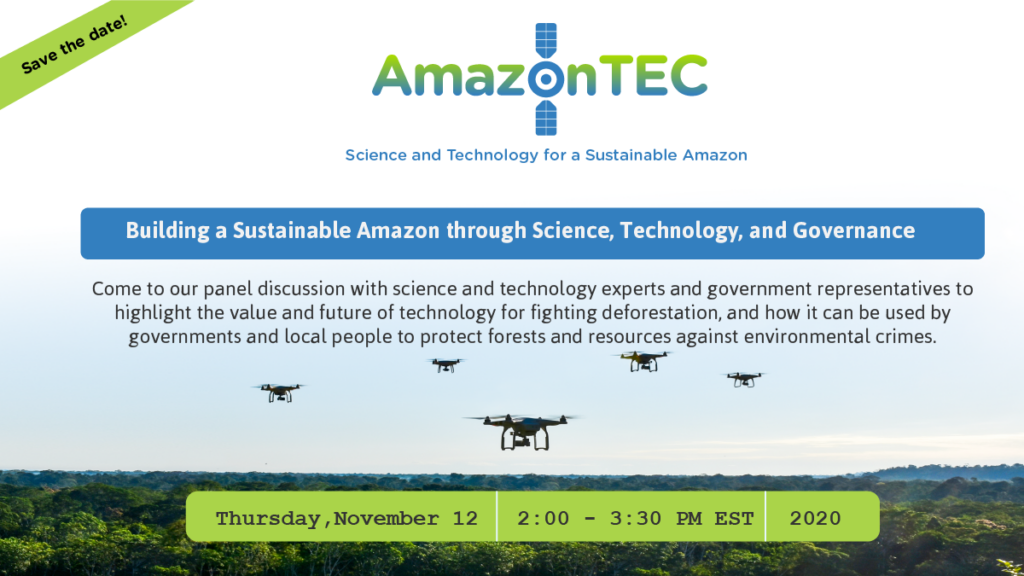 AmazonTEC is a premier forum for discussing science and technology's connection to policy and governance in the Amazon. Developed by Amazon Conservation's Peruvian sister organization Conservación Amazónica – ACCA, AmazonTEC brings together forest users, technology experts, NGOs, governments, and other stakeholders in a forum to discuss the use of cutting-edge technology (satellites, mobile apps, drones, and more) in the advancement of public policy for environmental protection in the Amazon.
The last of five sessions of the annual AmazonTEC event, titled Building a Sustainable Amazon Through Science, Technology, and Governance focused on the value and future of technology for fighting deforestation and how it can be used by governments and local people to protect forests and resources. Click here to watch the recording of the English session.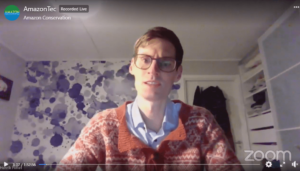 After Amazon Conservation Executive Director John Beavers welcomed panelists and attendees, Henrik Fliflet, Senior Adviser at Norway's International Climate and Forest Initiative (NICFI) gave opening remarks and shared the major news from earlier this year regarding the conservation technology initiative from Norway's Kongsberg Satellite Services (KST). Henrik elaborated on the agreement, speaking about how it provides free and accessible high-resolution satellite images of tropical forests, and its importance for conservation. Later in the conference, Dan Irwin of NASA commended this initiative by Norway and highlighted the importance of data availability in his presentation about new satellite technology.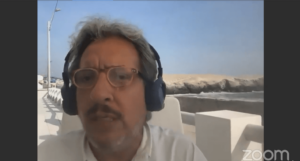 Manuel Pulgar-Vidal, who currently serves as the Leader of the Climate & Energy Global Practice of World Wild Fund for Nature International, added to Henrik's opening remarks, contextualizing why and how technologies can be used for conservation. He said that, "We should identify needs based on information provided by the actors of the Amazon. It's important to create opportunities that can be translated into actionable information and that can also be scaled ."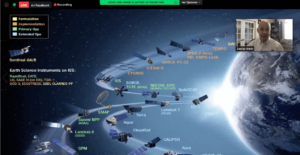 Enrique Ortiz,  Senior Program Director for the Andes Amazon Fund, served as the moderator for the panels throughout the conference, and introduced the panelists for the Technology Solutions for Conservation segment. The first panelist was Dan Irwin who currently works as a Research Scientist at NASA and is also the Global Program Manager for the NASA/USAID program SERVIR. SERVIR is a partnership between NASA and the U.S. Agency for International Development (USAID), which provides satellite-based Earth observation data and science applications to help developing nations. Dan gave an overview on the latest satellite technology noting that,"it enables up to take pioneering observation of our home planet. The power of the SERVIR network really enables services in one region to be transferred and scaled to another region or even the entire planet." He also noted the increase in destructive forest practices saying , "Across the region, mining activity has increased and with satellites you can now see it. This information is given to officials and others that can use it."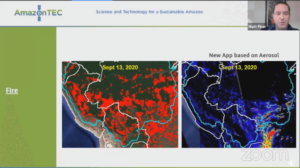 Actionable information was a major theme of this AmazonTEC webinar. Matt Finer, Director of the Monitoring of the Andean Amazon Project (MAAP) at Amazon Conservation talked about MAAP's real-time satellite monitoring takes satellite data of deforestation or fires and turns it into actionable information. During his presentation he spoke about this year's destructive fire season, which according to him, was even more severe than last year's. This year Amazon Conservation released an updated real-time fire monitoring app that combines aerosol emissions information provided by the new SENTINEL-5 satellite with data from traditional heat-based fire alerts. He notes that, "the great thing about focusing on aerosol emissions is that they're directly related to the amount of biomass being burned. Thus this app filters out the hundreds and thousands of smaller fires, and focuses only on what will become major fires."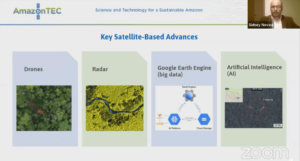 Sidney Novoa, Director of GIS and Technology for Conservation at our sister organization Conservación Amazónica – ACCA added to Matt's presentation saying that all of the satellite advances that Matt had mentioned are becoming more impactful due to the integration of other types of technologies. Sidney noted that, "some of the greatest innovations are in the use of new devices, such as drones and radar, and computer-based resources derived from the use of artificial intelligence, machine learning, and cloud computing." He also emphasized Amazon Conservation's drone monitoring program by people on the ground, further elaborated on by Flor Rumayna's and Daniel Rodriguez Fernandez's presentations later on.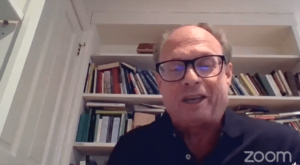 Adrian Forsyth, Tropical Ecologist and Strategic Advisor for the Gordon and Betty Moore Foundation emphasized how accessible technology is nowadays to citizens who want to participate in conservation efforts. This is done by crowdsourced apps, camera traps, drones, etc that can be accessed by your smartphone or purchased for a reasonable price. Additionally, he gave examples of some of the newest technology advances, such as an electric vest in development, "that can be put on a tapir or peccary, and when that animal moves, the stretching of that fabric generates electricity. That animal can be carrying an acoustic sensor that detects a chainsaw, shotgun etc. Or it could carry an aerosol sniffer, and the animal itself can participate in the management of a forest and its own salvation."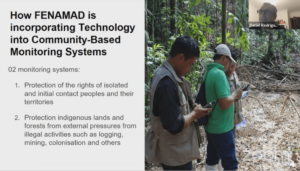 Daniel Rodriguez Fernandez, who is a specialist in uncontacted indigenous peoples' protection and a Technical Advisor for FENAMAD (an Indigenous Federation in southeastern Peru) spoke about how technology helps protect uncontacted peoples from encounters with external actors. Putting it in the context of COVID-19 he emphasized that, "it is more important than ever to prevent encounters due to the threat of COVID. The threats were further illustrated by camera trap photos that were taken of uncontacted peoples at the nearby Forestry authority control post. Daniel also spoke about how community-level forest monitoring is one of the central protective measures implemented, which provides the basis to prevent forceful contacts and other risky situations involving external actors. He elaborated on the monitoring system, which is organised around a network of control posts operated by FENAMAD, the communities and government authorities.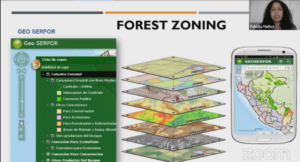 Fabiola Muñoz Dodero, a Peruvian attorney with a passion for conservation, served terms as Minister of the Environment, Minister of Agriculture, and the Executive Director of Peru's National Forest and Wildlife Service (SERFOR). She gave an insider perspective of how the Peruvian government has used technology to more effectively stop deforestation, and as the base of its innovative "National System of Control and Monitoring". She also spoke of the success story of Operation Mercury, which decreased illegal gold mining in the affected Madre de Dios region by over 90%. During the question and answer session, she was asked about current events in Peru, as an audience member was worried about ensuring that this progress would continue throughout all these changes in the Peruvian government. She responded by emphasizing the importance of regional governments and national governments working together, saying that, "one way is that we must all work to close the gap between the capacities of the national government and local/regional governments."
Hector Gonzalez, a Technical Advisor at Colombia's government agency "Institute of Hydrology, Meteorology, and Environmental Studies" (IDEAM) was also an AmazonTEC panelist but unfortunately was not able to give his presentation during the conference. You can read more about his organization and work here. 
Flor Rumayna, a local sustainable business owner and forest guardian in Peru was not able to present in person, but told her story via video. She was one of the first women in Peru to be trained and licensed to pilot drones for conservation and spoke about how technology changed the way she protects her forest concession.
Click here to read more takeaways from #AmazonTEC2020: