Cutting-edge technology and our supporters' generosity aided firefighting efforts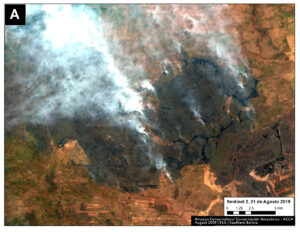 A cloud of smoke covered hundreds of major cities all over Latin America in August as fires devastated over a million acres in the Amazon basin. The fires were so fierce and smoke so thick – covering major cities like São Paulo, Brazil for days – that they became front-page news and went viral on social media.
Employing the latest in satellite technology that we have been using to detect deforestation in the Amazon in real-time – through our Monitoring of the Andean Amazon Project (MAAP) – we created 12 timely, fact-based analyses of the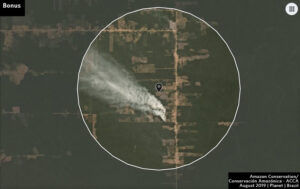 nature and location of the fires, as they happened. These reports gave local authorities the information needed so they could take action, and provided  the general public and the media up-to-date information on what was actually happening on the ground.
Our analysis was especially helpful in Bolivia, which was hit the hardest as standing forests within protected areas and critical habitats were burned, including the iconic Chiquitano dry forest. In Brazil, we discovered the fires were of a different nature, as they burned through forests that had been previously cleared for agricultural activities, and not standing forests as it was widely thought. These fires were a sign of a much bigger problem: rampant, unchecked deforestation.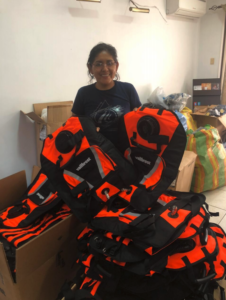 However, we were able to go far beyond monitoring. Thanks to the overwhelming support of concerned donors, we provided firefighting gear, tools and supplies, as well as water and food, to more than 100 Bolivian firefighters to battle the fires in 6 protected areas covering 17 million acres that were directly affected by the widespread fires. Since many of the fires were in remote locations, adding to the challenge, we also provided crucial support to mobilize firefighting brigades.
The fires have served as a reminder to us of the increasing threat fires bring to the Amazon's forests. We have since started working more closely with governments and communities to increase fire prevention efforts and scale our approach to support fire-free development of the Amazon. 
This was a story from our 2019 Impact Report. Click here to read about other conservation successes from 2019.