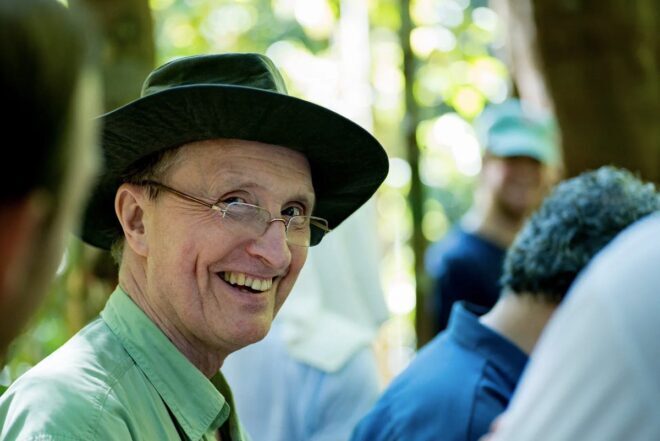 It is with heavy hearts that we lament the passing of renowned ecologist and long-time friend of Amazon Conservation Dr. Thomas Lovejoy this December 25. He was 80 years old.
Tom was a long-time advocate of conservation playing a prominent part in ensuring that the Amazon is a global priority for conservation since the 1970s. Among his numerous and profound contributions to the field, Tom coined the term "biological diversity", helped develop the game-changing "debt-for-nature swap" model, and most recently, along with his colleague Carlos Nobre defined the Amazon's tipping point. His many achievements have helped move conservation forward both in policy and on the ground.
Since 2009, Tom had been a member of Amazon Conservation's Board of Directors, helping guide the strategic vision and direction of our organization.
Our Executive Director John Beavers, who worked closely with Tom as we developed and launched our 2020-2030 strategy, described him today as "such a dedicated, strategic, knowledgeable and faithful advocate of the Amazon and of biodiversity who enriched our understanding, improved our work, and provided the glimmers of hope that we needed to continue to advance our conservation efforts. It was such an honor to meet with him each time, knowing the many, many other people and institutions he was helping to advance the cause through his wealth of knowledge, experience, and caring."
Our Founder Adrian Forsyth had many experiences with Tom in the rainforest, sharing that "Tom worked tirelessly until his last days. His accomplishments and awards were huge and many. Yet despite fame and frenetic schedule, he found time to help and listen to anyone who asked. Being kind was his natural state. Against the challenges of his mission, he smiled a lot. You could count on him after a grueling trip to come to your meeting in dapper, good spirits and to make an incisive observation or encouragement. With his passing, each of us, and indeed, our planet, has lost something, but far less than what we have gained from his exemplary life."
Tom shared his love for the Amazon in an article on Yale News, describing what stepping foot on the Amazon felt like: "Before I got to the Amazon I was unable to truly anticipate what it would be like there. People imagine that in the tropical rainforest things are jumping out at you all the time, but in fact, it's much more subtle than that. You're dealing with hundreds of species of trees, and hundreds of shades of green. And it's all a great blur when you first step into it. But then you begin to perceive the differences, and you begin to see the insect life. You hear a lot, and not just birds, but insects and amphibians and the like. Pretty quickly you do understand that this is one of the most diverse communities on Earth." 
In one of his last writings for the New York Times, Tom spoke on the links between climate change and the loss of biodiversity, and the importance of protecting intact forests: "We're losing a battle we can win, but only by keeping trees on our side…. We must let the big forests stand."
His legacy of championing nature will not be forgotten and we will carry on the fight to keep the Amazon standing in his honor. As he wisely said, "As long as something still exists in the world it can be saved."
Rest in peace, friend.