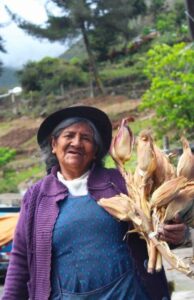 Marcapata Ccollana, an indigenous community of Quechua origin in Cuzco, Peru has just been established as an agrobiodiversity zone with the help of our sister organization, Conservación Amazónica – ACCA. More than 55,800 acres of vast agricultural genetic diversity and ancestral lands are officially protected, which preserves various types of endemic Andean root vegetables.
Located in the Quispicanchi province in Cusco, Marcapata Ccollana's altitudinal gradient ranges from 9,100 ft -17,000 ft (2,800 m – 5,200 m) above sea level. These conditions favor the growth of more than 99 varieties of potatoes, 25 of corn, 56 types of unique root vegetables, and multiple varieties of quinoa, tarwi bean and kiwicha seed, which  are essential for the food security of 200 local families, especially in light of the COVID-19 pandemic.
Additionally, that Marcapata Ccollana is also "an important force of cultural diversity" is evidenced in the Quechuan "ayllu," the communal structure that shapes the natural resource management of the area. This is in combination with other ancestral practices known to conserve agrobiodiversity, such as the Chuki, T'aya, and Wachu crop-rotation systems.
The recognition of Marcapata Ccollana as an agrobiodiversity zone was a community-driven effort with the support of our sister organization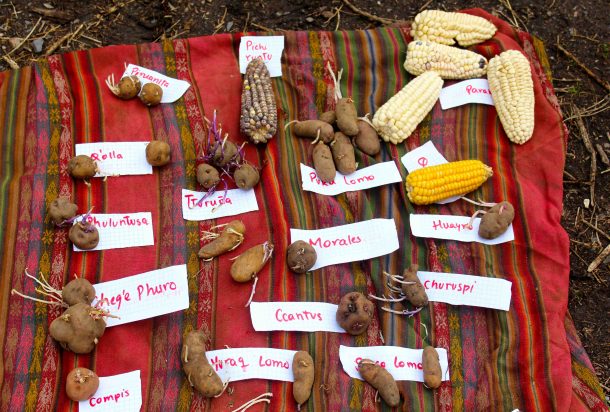 Conservación Amazónica – ACCA, the Peruvian National Protected Areas Service (SERNANP), the United Nations Development Program (UNDP), and the Regional Government of Cusco.
Creating a Mosaic of Protected Areas 
The Marcapata Ccollana Agrobiodiversity Zone is connected to the Ccollasuyo Agrobiodiversity Zone, established in November 2020, and to the Ausangate Regional Conservation Area, established with our support in 2019. This mosaic of conservation areas allows us to safeguard biological diversity and the quality of ecosystem services for the well-being and sustainable development of indigenous Andean communities such as the Phinaya, Sallani, Ccollasuyo and Marcapata Ccollana. In a context of climate crisis, this action increases the resilience of these ancestral lands.