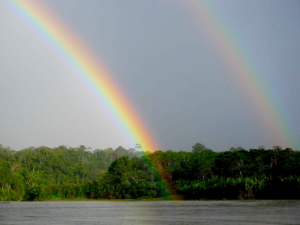 If you love our work then tell the world! Stories about us from people like you will help us make an even bigger impact in our community. At Amazon Conservation, we are dedicated to making a positive impact on the world and serving our community with unwavering commitment. We believe in transparency, accountability, and fostering trust with our supporters. That's why we're asking you, our valued supporters, for your help in spreading the word about our work.
GreatNonprofits is a trusted platform where people can share their experiences with nonprofits and help others discover organizations that are making a difference. The platform honors highly regarded nonprofits with their 2023 Top-Rated List. Will you help us raise visibility and credibility for our work by posting a brief story of your experience with us?
Why are reviews important?
Trust and credibility:

Positive reviews from supporters like you can build trust with potential donors, volunteers, and partners. It's like a personal recommendation that can convince others of the authenticity and impact of our work.

Visibility:

More reviews mean better visibility on GreatNonprofits and other platforms. This increased visibility can lead to more supporters finding out about our organization, which in turn can help us raise more funds and accomplish our mission.

Feedback and improvement:

Reviews also provide us with valuable feedback. While we appreciate your support, we're always striving to improve and do better. Honest reviews can highlight areas where we excel and where we can make improvements.
How can you help?
Write a review:

Visit our profile on

GreatNonprofits

and share your thoughts and experiences. Be specific about how we've made a positive impact on you, the community, or the planet. Your unique perspective matters.

Spread the word:

Encourage your friends, family, and colleagues who support us to write reviews as well. The more voices we have, the stronger our message becomes.

Share on social media:

If you're comfortable, share your review on your social media channels to further amplify our cause.

Engage with others:

Engage with other reviewers and comment on their reviews. This shows that our community is active and engaged, further enhancing our credibility.
Remember that your words have the power to inspire others and drive positive change. By writing a review for us on GreatNonprofits, you're helping us achieve our mission to ensure a thriving Amazon and a better planet for future generations. 
We at Amazon Conservation are grateful for every supporter who joins us in our mission, and we look forward to reading your reviews on GreatNonprofits.