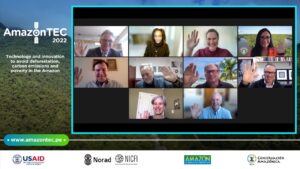 Each year, Amazon Conservation, along with our Peruvian partners, Conservación Amazónica – ACCA, hold an important webinar series entitled AmazonTEC. AmazonTEC is an international platform to present successful experiences on the application of science and technology for a sustainable Amazon. It is the space that brings together innovators, regulators, and friends of the forest, to assess the needs of the Amazon, the progress and pending efforts in terms of data, information, science, technology, and innovation, in order to make urgent decisions for the protection and sustainability of the Amazon.

The 2022 edition of AmazonTEC was comprised of 3 sessions (one virtual, one live, and one in hybrid format) featuring biologists, conservationists, ecologists, government entities, and more representing 5 countries and bringing expertise from a multitude of diverse backgrounds and experiences.  This year, attendees were treated to presentations from scientists working with NASA, GIS specialists from various North American universities and Peruvian organizations, officials from USAID, and many others.
By joining and presenting a diverse array of scientists, conservationists, and advocates for the environment, AmazonTEC brings together minds from all over the world who are committed to protecting the greatest forest on Earth by utilizing cutting-edge technologies and perspectives informed by decades of research and experience.
Recordings of this year's sessions can be found at the link below.