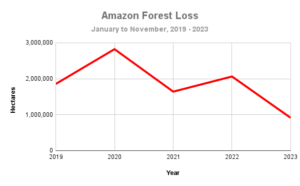 As national policymakers begin the global COP28 climate summit in Dubai, we provide here a concise update on the current state of Amazon forest loss and remaining carbon reserves, both based on the latest cutting-edge data.
Here, in MAAP #201, we find that there has been a dramatic reduction (over one-half, 55.8%) in primary forest loss from 2022-2023, with the largest declines in the Brazilian (59%) and Colombian Amazon (67%). Compared to the peak year of 2020, forest lost has dropped by over two-thirds, or 67.7%.
Additionally, we have found that there are over 78 billion metric tons of aboveground biomass across the Amazon biome, which converts to over 37 billion metric tons of carbon.
This work was supported by NORAD (Norwegian Agency for Development Cooperation) and ICFC (International Conservation Fund of Canada).